General Session Recaps: Day 1 | Day 2 | Day 3
It would not be a proper virtual event without a few technical issues. When I attempted to "Join Session" 15 minutes before the 3DEXPERIENCE World 2021 CSWE Networking Event started, I was victim to a persistent blank screen after several refreshes. Eventually, I ended up in the right place and discovered an active chat section containing a few folks who shared my confusion and sense of humor.
Todd B

"Holy cow, have I slayed the 'you can't come in here dragon' and I'm finally here!!!"
Unlike myself, others came prepared for the event:
Richie

"I subscribed to 1Gpbs internet speed to attend the 3DXW21 :D"
The session opened with Mike Pucket as the host of the show, sporting a "SOLIDWORKS Certification Team, 10 years of CSWE, 2010-2020" shirt and welcoming us to the CSWE event. He shared a sentiment that I think we all share: "We really wish that we could be with you guys, together, in person." They still found a way to make sure 3DEXPERIENCE World 2021 and, specifically, the CSWE Special Event happened.
Mark Peterson, Senior Solutions Consultant, joined Mike Pucket. They both live in the Las Vegas area. As the co-host of SOLIDWORKS Live and a former Application Engineer at a reseller, Mark Peterson earned his CSWE in 2014. Mark drops the massive hint that SOLIDWORKS 2022 will take place in a city that begins with the letter "A." The chat lights up with guesses, from Austin to Anchorage.
Todd B

"Albuquerque! (With Weird Al as the musical guest!)"
Next, Pucket proudly announced that they had reached 500,000 Certified SOLIDWORKS users as of February 8th, 2021. What an accomplishment!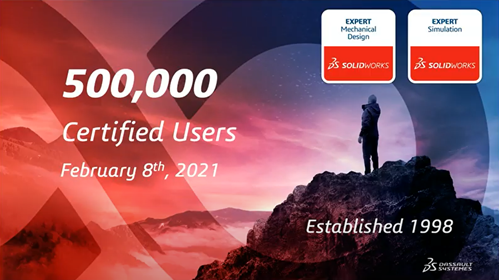 Gian Palo Bassi himself hosted a brief segment named "The Art of the Mix" teaching us how to assemble an Italian Spritz. Despite him specifying that he was filming this segment in Boston, MA, I felt like I was in Italy. Lovely, romantic music was playing and the drink looked delicious. Once again, I was unprepared with my own ingredients but this recipe was good timing considering Valentine's Day is this weekend!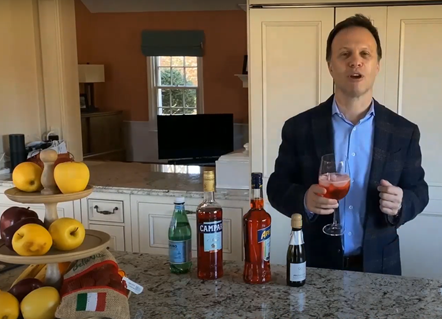 They included a customer story with a 2-part interview with Mike and Mark Patey from Best Tugs. Identical twins, Mike and Mark lamented that their parents should have named them Pete and Repete. Their passion for their work shows throughout the interview, as they discuss why they became mechanical engineers, how they have included their own family in their aircraft business, and the ways that SOLIDWORKS helps them to run their business efficiently. In the image below, Mark is on the left and Mike is on the right, I think… :)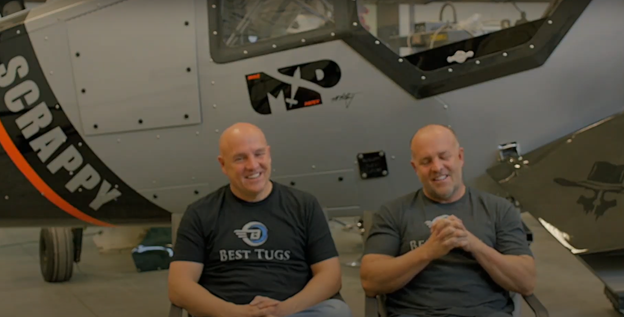 The first live guest of the event was none other than Toby Schnaars from the YouTube channel "Too Tall Toby." He provided some fresh energy and humor, with his office printer in the background clearly labeled as a "2D printer." He also had a "CSWE 2021 Special Event" sign in the background to keep the 3DEXPERIENCE World 2021 energy going.
Toby has been a SOLIDWORKS user since 1997 and is the host of "Model Monday Live Challenge" on his YouTube channel. As a special edition of that event, he hosted on his YouTube channel his Model Monday challenge as part of the CSWE event.
The design challenge consisted of two challenges: one challenge was practice, and the second was "for reals." The goal is to model the part from a 2D sketch, apply material properties, and type the mass of the part in the chat first.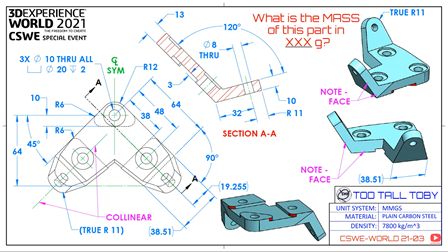 Toby remarked, "There has only been one person who confirmed that they have access to the chat so they may automatically be the winner." Eventually, others found the chat as well and participants began submitting their answers. Kam won the practice challenge and Tom S. won the actual challenge.
Eric B

"I rationalize not competing in Toby's tournament by claiming that I'm too methodical a thinker to model fast like Kam and Tom S. (at least that's my story - I'm sticking to it!)"
The CSWE event closed with an interview with Co-Founder and CEO of SolidProfessor Tony Glockler. Fun fact: the "SolidProfessor green" was chosen because it was Tony's favorite color (we also love green!).
Tony discussed the test anxiety that many people experience and how it may affect the pass rate for the SOLIDWORKS Certification exams. (I can totally relate to that test anxiety.) SOLIDWORKS Certification tests can be difficult and it is important to plan ahead and consider attending training classes before taking the certification tests.
And finally, this slide was shown to help you find everyone who was mentioned during the CSWE Special Event: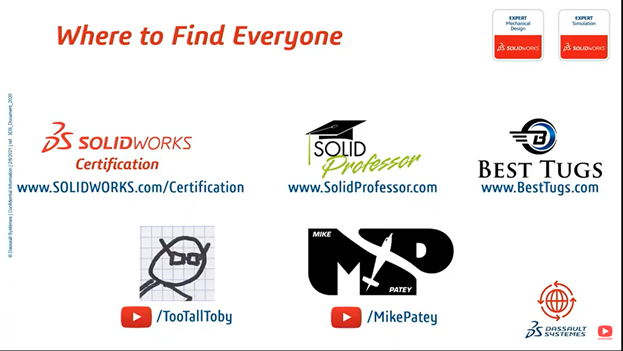 Overall, the first CSWE virtual event went well and it gives me high hopes for the rest of the week!
Expand Your SOLIDWORKS Skillset
Understanding Hierarchy of SOLIDWORKS Appearances