What is the SOLIDWORKS PDM Add-in for DraftSight
The DraftSight for SOLIDWORKS PDM add-in is a connector for DraftSight Professional, Premium, and Enterprise. This add-in allows a user to perform file vault operations from within the DraftSight application. The add-in consists of a dropdown menu, two toolbars, and a status window that you can activate to carry out commands such as:
Of course, installing the add-in requires a license for one of these DraftSight editions. However, you can use DraftSight with SOLIDWORKS PDM Standard, Professional, or SOLIDWORKS Manage. There is also a role on the 3DEXPERIENCE Platform for integration with that as well. If you use any of those tools for data management, DraftSight has an add-in that makes integration seamless.
How to add SOLIDWORKS PDM into your DraftSight tool
The add-in is included with SOLIDWORKS PDM 2016 (Standard and Professional edition) or a later version client installation. The add-in registers automatically if DraftSight is present when installed. If DraftSight is installed on a system that already has a SOLIDWORKS PDM client installation, you might have to modify the client installation to add the DraftSight add-in.
Learn how to get PDM installed on your system in the video below.
Note: When you set the Client Options make sure you check on the DraftSight add-in as in the image below.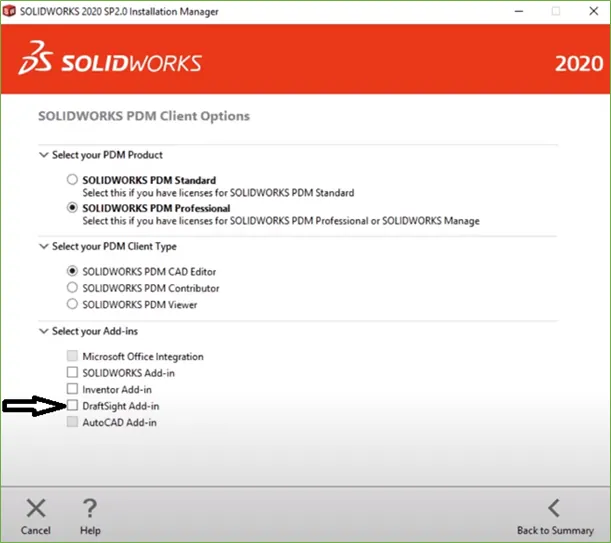 Once you have the PDM add-in and DraftSight both installed, you need to turn on the add-in within DraftSight. To activate the add-in from within DraftSight, go to Manage > Add-ins, and activate SOLIDWORKS PDM add-in.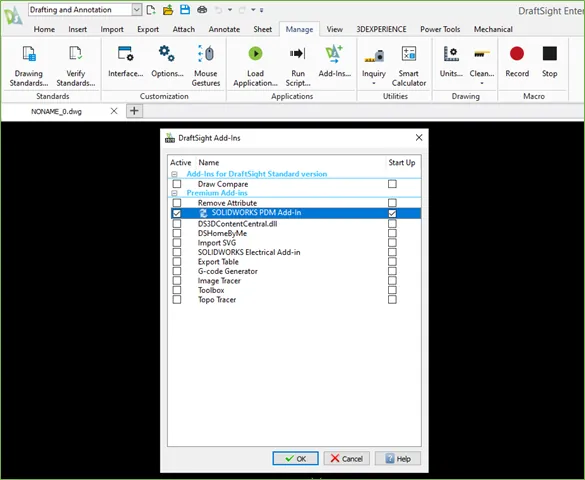 If you are not seeing the Manage option in the ribbon bar, please note the workspace settings in the top right corner of your DraftSight application. You will need to be in the Drafting and Annotation workspace to see the Manage tab for the add-ins.

With the PDM add-in turned on you will see the PDM tab added to the ribbon bar as well as the quick access menu in the top right corner of the interface.

You are now ready to start using the power of SOLIDWORKS PDM with your DraftSight application.
Learn More About DraftSight & SOLIDWORKS PDM
DraftSight Software Packages, Price, and Features
Difference Between State and Transition Revision Numbers in SOLIDWORKS PDM