Learn how to obtain free certification exam vouchers that are available to all SOLIDWORKS subscription customers.
First, you will need a SOLIDWORKS ID that is registered with a SOLIDWORKS serial number that is currently active on subscription. In addition, you will need a 3DEXPERIENCE Certification Center VirtualTest account.
How to Obtain SOLIDWORKS Certification Exam Vouchers
On the 3DEXPERIENCE Certification Center website, log in with your email address and password.




Then, from the icon menu bar on the left-hand side, select the dollar sign "$" icon, select Subscription Offer > Start Here.




You will then be prompted to log in with your SOLIDWORKS ID. Please do so to verify that you have an active SOLIDWORKS subscription.





When this condition is met, you will be offered three certification exam vouchers - one from each category.





Note: You can request exam vouchers for Certifications that you've already earned. These will be displayed with an asterisk next to them. The reason one might want to do this is to share that voucher code with someone else who you wish to encourage to get certified.





Important: Vouchers expire 180 days after they have been requested. Likewise, after 180 days you will be able to request a new set of vouchers. Essentially, you can do this once between January and June and once again between July and December.





Select

Redeem

and, so long as you haven't already received vouchers within the last 180 days, the system will create your new exam vouchers.




To see your voucher codes, select Show >> and a list will appear of your available exam vouchers.



Note: You do not need to write your voucher codes down. They are always accessible through the 3DEXPERIENCE Certification Center Subscription Offer area of the webpage.
How to Use Your Free SOLIDWORKS Voucher Codes & Test Credits
Starting at the 3DEXPERIENCE Certification Center website, you'll need to download the Tangix Virtual TesterPRO Client.




After downloading the Virtual Tester program, you will need to launch the installer and read through and accept the license agreement.




Once the Tangix Virtual Tester has finished installing, leave the checkbox "Run Tangix TesterPRO for Dassault Systemes" selected (which will automatically launch the program) and click Finish.


Next you will need to select a language to continue and proceed to log in with your Virtual Tester ID. (If you don't have a virtual tester ID, you can create one now.)


Click Continue and select SOLIDWORKS from the brand list. This will present you with a list of available SOLIDWORKS Certification Exams.




To use your SOLIDWORKS Certification voucher, enter the code at the top of the virtual tester client.



Remember, you can view and retrieve your voucher codes by going to the "$" menu icon on the left for Subscription Offers > Start here > Login with SOLIDWORKS ID. This will reveal SOLIDWORKS Certification vouchers currently available to you so you can copy/paste the voucher code into the virtual tester.


Once you've entered your voucher code, click submit and your exam is ready for you to take.
Select your language and select Start Exam.
Purchased Credits
In the image below, you can see that there is a purchased credit for the Advanced Surfacing exam.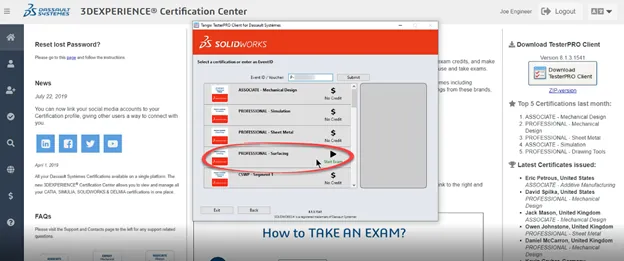 Starting the exam will use the credit immediately regardless of your final score. This means that if you are unsuccessful passing an exam, another purchased credit is required in order to try again. Also required is the minimum 14 day waiting period before your next attempt.
If you click on an exam that you don't have a credit for, there is a Buy Credit…option available to you. Selecting this button launches the online store where you can purchase the exam credit.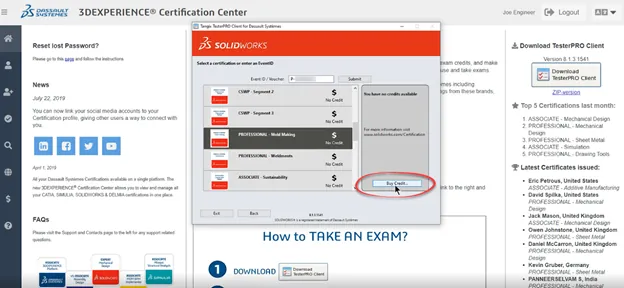 After purchasing the desired credit, clicking OK should refresh the certification list to show your credit. If that does not work, a simple relaunch of the virtual tester may be required to show any new credits immediately upon purchase. Logging into your 3DEXPERIENCE Certification Center account will also reveal these newly purchased credits.
I hope you found this guide helpful. Good luck from GoEngineer!
*Note: This article was originally published in 2018 and was updated in 2021 due to accuracy.
Learn More About SOLIDWORKS
Learn SOLIDWORKS Online: Virtual vs. Self-Paced Training
Easy Way to Hide/Show SOLIDWORKS Dimensions at Part Level
SOLIDWORKS System Options Keyboard Shortcuts