Blocked Downloads?
If your SOLIDWORKS serial number has expired, (no longer under subscription service) you will not be able to use Check for Updates inside SOLIDWORKS to download the latest service pack. You will also find there is a lock on the download section in the Customer Portal. This is because SOLIDWORKS requires an active subscription to download the software from their servers.
What can I do about this?
Even though downloads will be blocked, do not worry, GoEngineer has a solution for our customers. With every service pack release, we upload the entire installation file set to our File Share site. The file set is compressed to a zip folder and made available upon request.
How to request downloads?
To request a download link, you may send an email to support@goengineer.com , or call our support hotline at 1.888.559.6167.
If by email, please include your serial number along with the SOLIDWORKS year version/service pack you need.
You may also request a download link from our website by following this SOLIDWORKS downloads link.
What version can I download while off subscription?
If your subscription service ends without renewal, you are still entitled to download any service pack release of the latest year version prior to expiration. For example, if your subscription service expired on 12/31/2019, then you are still entitled to all service pack releases of SOLIDWORKS 2020 because version 2020 was released prior to that date.
How to install the software once downloaded?
Following the download of this file, you will want to extract the file to a known folder location before running the installation. Please utilize 7-Zip ( http://www.7-zip.org/a/7z1602-x64.exe ) for the extraction process to avoid installation issues. Otherwise, the default WinZip utility, included in Windows, will flag the installation files as malicious during extraction and disrupt your ability to install.
Once the package is extracted, right-click the setup.exe located in the extracted folder and choose Run as administrator to launch the Installation Manager.
Once the Installation Manager is opened, right-click above the red SOLIDWORKS banner and choose Disable Internet Access . Doing this should halt any attempts to download files from the SOLIDWORKS server (remember you have just downloaded the complete file set).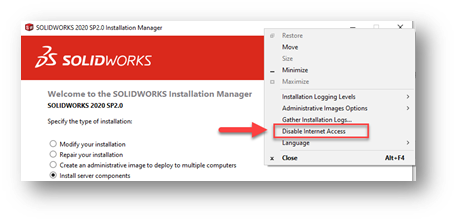 If you need a guided tour of the installation process, please take a look at the instructional video below.
Related Articles
Decoding Your SOLIDWORKS Serial Numbers
6 Ways to Get the Most Out of Your SOLIDWORKS Investment
Best Workstations for SOLIDWORKS: Hardware Configurations
Obtaining and Using SOLIDWORKS Certification Exam Vouchers