Stratasys recently added several new 3D printers to their portfolio, including the highly anticipated J35 Pro - a multi-material, desktop PolyJet 3D printer offered by the leader in professional additive manufacturing solutions.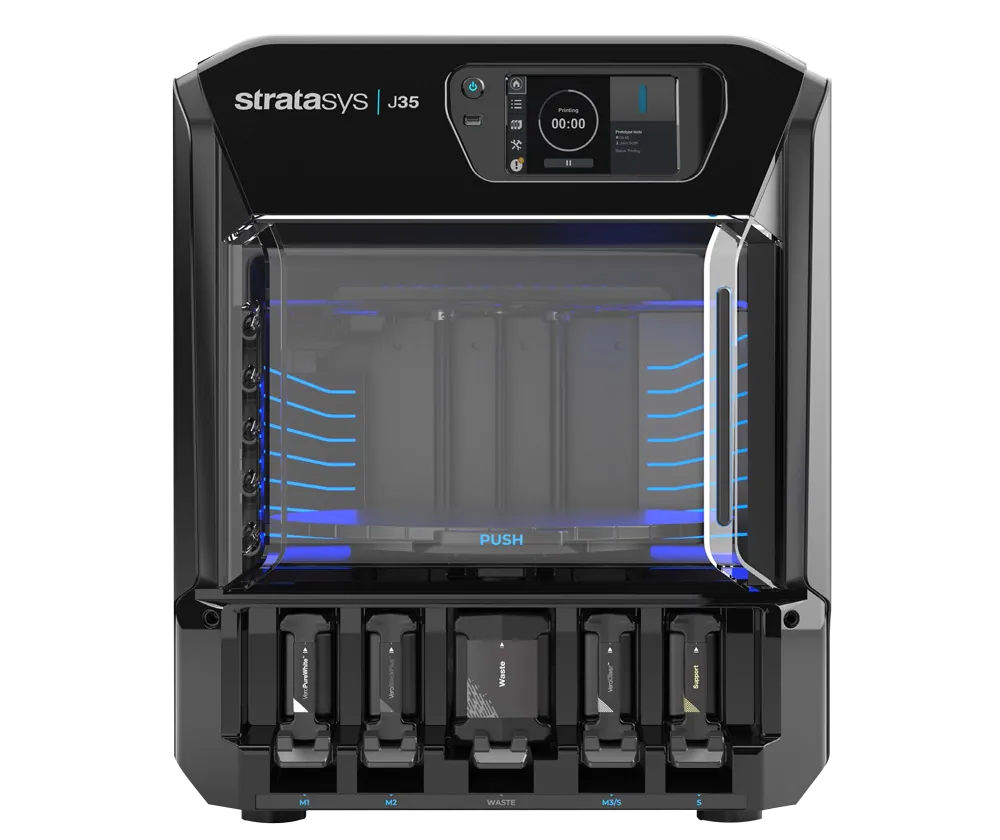 The J35 Pro is an affordable office-friendly and user-friendly, compact 3D Printer - but don't let its small size fool you. It may have a small frame, but its possibilities are endless - from small and delicate models to fully-functional engineering prototypes. The J35 Pro serves a variety of industries including consumer goods, consumer electronics, and education.
So, how compact is compact? The J35 Pro is 25.63 in x 26.02 in x 30.48 in and can print models up to 6.1" high on its round build tray.

Stratasys J35 Pro Material Options
The Stratasys J35 Pro is capable of printing three materials simultaneously or separately, including:
VeroUltra BlackS & WhiteS

meet the 2D graphics standards while providing strong color contrast and color separation. This material is also used to create a silkscreen printing effect when labels, text, or graphics are added to the model.

VeroUltra ClearS

material simulates acrylic, perfect for prototyping glass, clear polymers, or transparent packaging. VeroUltraClearS provides exceptional clarity combined with strength, stiffness, and impact resistance.

DraftGrey

is a rigid material used mainly for concept modeling. It delivers medium opacity, a smooth finish, stiffness, and versatility.
Elastico Black & Clear

is a durable rubber-like material that can be flexed and bent. Ideal for advanced design verification and rapid prototyping, Elastico Black and Clear are the perfect match for rubber surrounds, over-molds, soft-touch coatings, living hinges, jigs and fixtures, wearables, grips, and seals.

Digital ABS

creates realistic, precise parts that are tough and heat resistant. Designed to simulate durable production plastics, Digital ABS Plus delivers high impact strength with high-temperature resistance and superior finish.

Vero ContactClear

is a rigid transparent rapid prototyping material that is also biocompatible. It allows physical proof of concepts and prototypes requiring contact via skin or mouth.
Like other 3D printers in the Stratasys lineup, the J35 Pro utilizes GrabCAD Print software to monitor, optimize, prepare, and schedule all of your print jobs.
The Stratasys J35 Pro is a great addition to companies with several large and medium machines as well as quiet offices with limited space.
Interested in bringing a J35 Pro on board? Let us know !

Related Articles
Coming Soon! Updated Print Heads from Stratasys
Stratasys' 'BIG' Release: Meet the F7470
Binder Jetting and Stratasys? Meet SAF Technology
New Stratasys ABS-FC10 Carbon Fiber Composite 3D Printing Material
Stratasys Slicer Updates for FDM: GrabCAD Print & Insight