The Report Manager allows SOLIDWORKS users to manage HTML reports generated from the following SOLIDWORKS Utilities: Compare (Document Properties, Features, Geometry, BOMs), Geometry Analysis, Symmetry Check, and Thickness Analysis.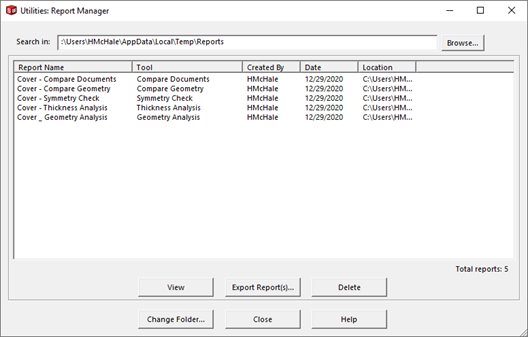 Saving a Report
After running one of the above utilities, choose Save Report. Within the save dialog, specify the location and the report name. You can also have the report open once saved and add it to the design binder of the file(s) you are running the report on. Additionally, Thickness Analysis results can also be saved to eDrawings.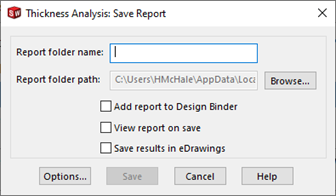 To further customize the report, choose Options. Here you can customize units, Tolerance, colors, and specify the views to be exported.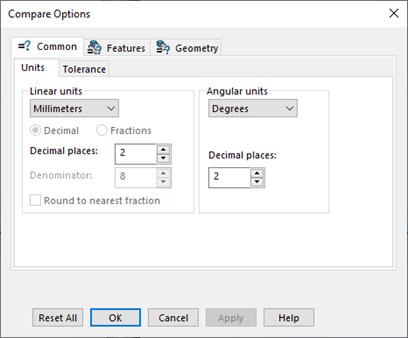 Using the Report Manager
The Report Manager can be accessed in the Tools menu in SOLIDWORKS. Tools>Compare>Report Manager.
The Report Manager lists reports located in the default file location. Use Browse to search a different location during this session or select Change Folder to modify the default location. The Report Manager provides the name of the report, the utility that generated it, the location it is stored, and the date and user that saved it.
Select a report and choose View to open it in a web browser.
Select a report(s) and choose Delete to remove them.
To export to the briefcase, select the report(s) and choose Export Reports. Browse to the location you would like the Briefcase saved and an HTML file will be generated.
If you would like to learn more about the powerful tools found within SOLIDWORKS, see our available Self-Paced Training Courses.
Learn more about SOLIDWORKS Utilities
Find and Replace Annotation - SOLIDWORKS Utilities
The Power of Power Select- SOLIDWORKS Utilities
BOM Compare - SOLIDWORKS Utilities