We have all done it; clicked 'Undo' one too many times and the entire SOLIDWORKS sketch is removed then searched for the 'Redo' command and discover it is greyed out. Unfortunately, we must face the fact that the sketch is gone, and we now need to "redo" the work. Historically 'Redo' was limited to sketch commands. Although you could Redo many sketch functions, the sketch creation itself was not available for Redo.
In SOLIDWORKS 2021, the Redo command has been improved to not only include sketch commands but features as well. Here is an example of some available commands.
Sketch creation

Extrudes and cuts

Patterns

Instant 2D & Instant 3D

Surfacing commands
You can access Undo and Redo using the shortcuts. Undo=CTRL+z and Redo=CTRL+y; or from the quick access commands located above or inside the Command Manager. If Redo is missing in quick access, you can now search for and add it using the instructions found here.
When using the icons, the dropdown is useful to know what will happen and to Undo/Redo multiple commands at once. Select the down arrow and then the last command you want to Undo/Redo to complete in fewer clicks.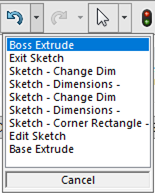 I hope you found this SOLIDWORKS quick tip helpful. Check out our latest SOLIDWORKS tips and tricks below.
SOLIDWORKS Tips and Tricks
Using the Move/Copy Body Feature in SOLIDWORKS
Link a Dimension to the BOM with a Custom Property
Searching for Functions in SOLIDWORKS 2021