SOLIDWORKS provides a great file management tool for SOLIDWORKS files called SOLIDWORKS Explorer. One can use SOLIDWORKS Explorer to copy, rename, replace and move SOLIDWORKS parts, assemblies, and drawings while maintaining file references. The best part of this great tool is that it can be used outside of the SOLIDWORKS application since it is embedded into Windows Explorer when it is installed.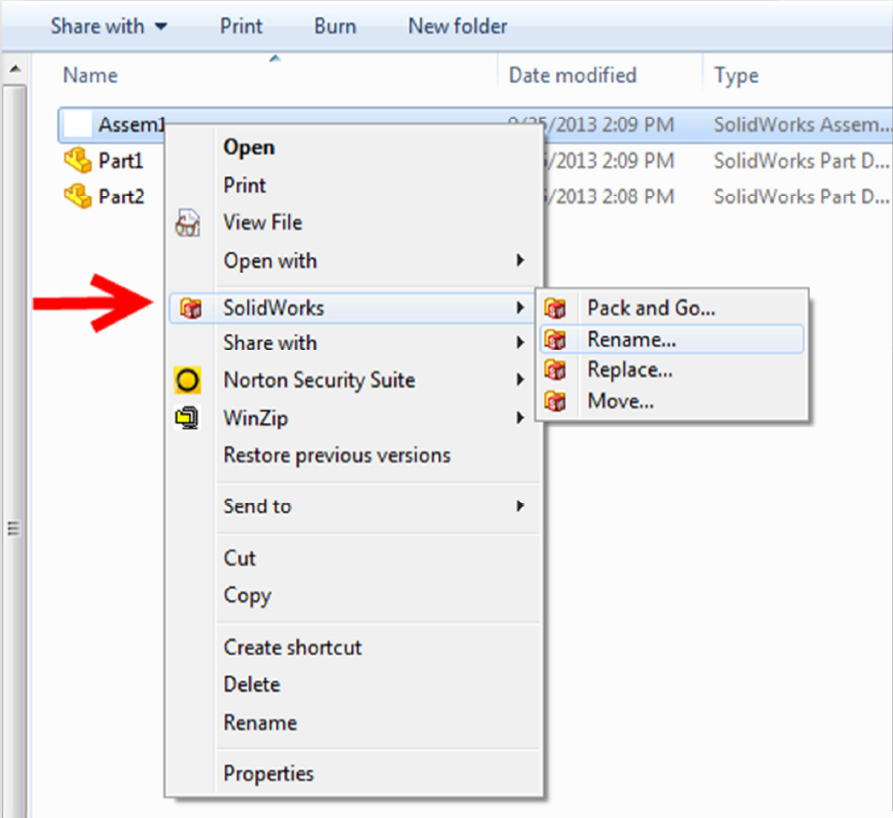 Many SOLIDWORKS users are aware of the SOLIDWORKS Explorer stand-alone application that can be found under Start > All Programs > SOLIDWORKS 20__ > SOLIDWORKS Explorer. However, not many users know that SOLIDWORKS Explorer is also accessible through Windows Explorer once installed. A simple Right Mouse Click on a SOLIDWORKS file allows users to view the SOLIDWORKS Explorer options (image above).
In this menu, one can choose to use Pack-and-Go to copy SOLIDWORKS files with all of its references including parts, assemblies, drawings, design tables, Design Binder content, custom and default decals, appearances, scenes, and SOLIDWORKS Simulation results into a folder or zip file. Since SOLIDWORKS does not need to be opened, copying large assemblies is now faster and is safer too since the original is not touched.
Other options in this Windows Explorer menu include Rename which allows users to rename a SOLIDWORKS file and update all of its references. Replace lets users replace a part or assembly file and update all of its references. The last option is Move which allows users to move files to another directory and updates its references.
This is a great and convenient SOLIDWORKS Explorer integration for safely copying, renaming, replacing, and moving files right from Windows Explorer.
Expand Your SOLIDWORKS Skillset
Understanding Hierarchy of SOLIDWORKS Appearances
SOLIDWORKS Cosmetic Thread View Options
How to Copy SOLIDWORKS Custom Properties to Other Files