SOLIDWORKS PDM 2021 includes lots of new icons for States and Transitions. Previously existing State icons have been updated as well as the icon interface. Being able to sort icons into different categories makes it easier when making a selection as well.
>> Related: Difference Between State and Transition Numbers in SOLIDWORKS PDM
Changing a State icon can be performed by the administrator inside the Administration application. Open a workflow, select a state, and right mouse click to open up the Properties window and select Change…. The updated Select Icon window now shows the list of categories of all the available icons.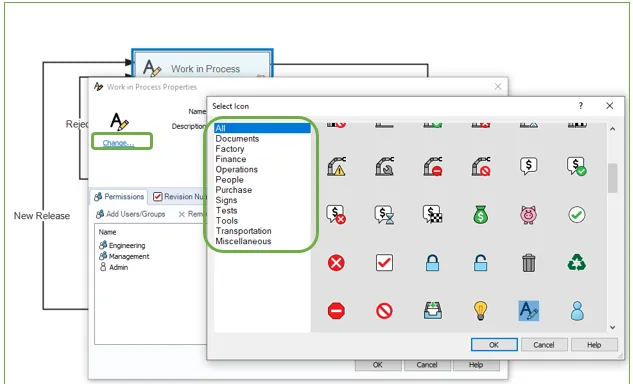 These additional icons will help create more detail and nuance to the workflow states when configuring the vault.
That's it for this SOLIDWORKS PDM 2021 quick tip. To learn more about SOLIDWORKS PDM check out the links below.
Learn more about SOLIDWORKS PDM
Creating Custom Column Sets in SOLIDWORKS PDM
Troubleshooting Workflow Revisions in SOLIDWORKS PDM
Virtual Documents in SOLIDWORKS PDM
SQL Maintenance for SOLIDWORKS PMD Standard