In the ever-evolving world of engineering and design, staying at the cutting edge of technology is crucial. SOLIDWORKS Plastics, a powerful tool for simulating plastic injection processes, has once again added innovative features and enhancements. SOLIDWORKS Plastics 2024 takes plastic part design and injection molding simulations to new heights.
Injection Location Advisor
SOLIDWORKS Plastics 2024 introduces the Injection Location Advisor, a feature that takes automation to the next level. This advisor can automatically suggest multiple gates and their optimal locations for your plastic part. Specify a desired number of gates, and the advisor will intelligently place them in optimal positions.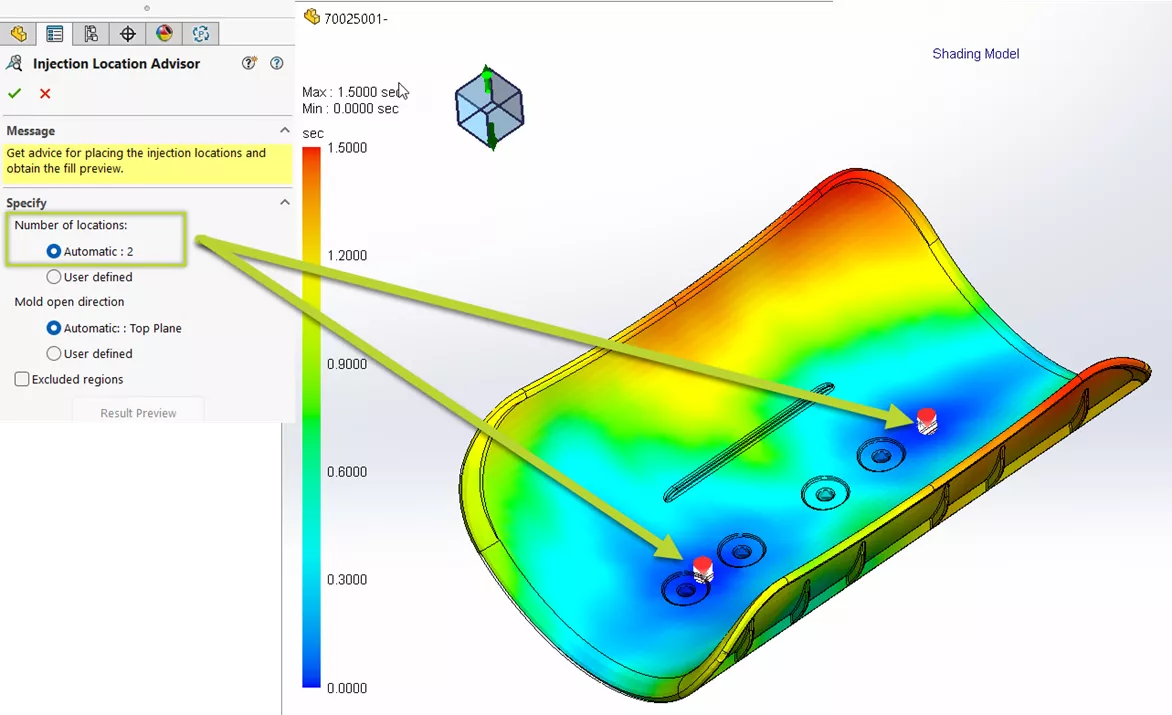 Batch Manager: Streamlined Simulations
Imagine there's a new part, like a cable cover, and you want to explore various scenarios with different materials and study types. The new Batch Manager simplifies this process. With just one click, users can queue up multiple studies and run them all efficiently.
Choose the required study type (e.g., Fill, Pack, Warp, or Cool), and designate the Maximum Number of CPUs for each study. Users have full control, and the Batch Manager ensures a smooth workflow.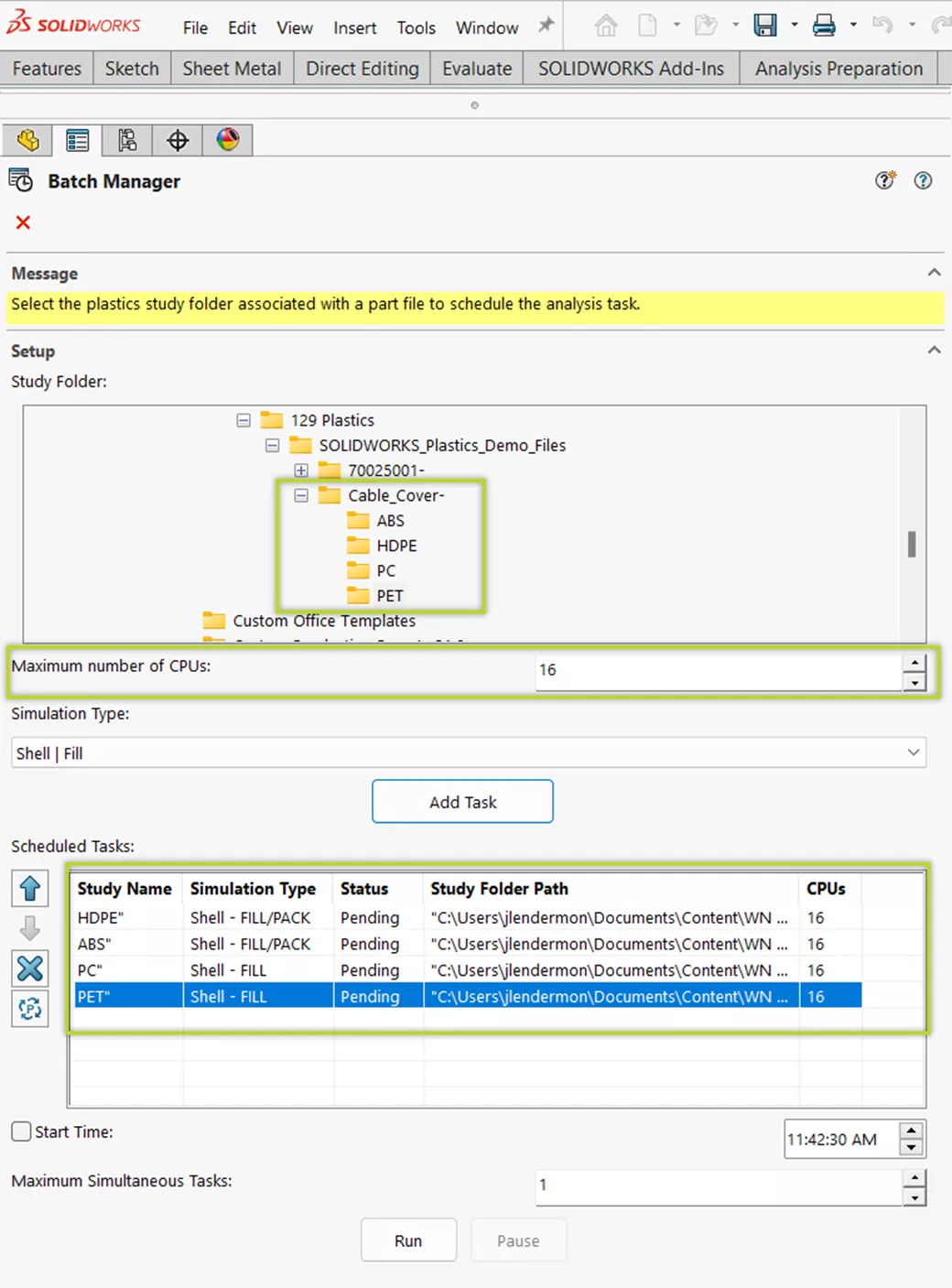 Deeper Insights with Multiple Result Views
SOLIDWORKS Plastics 2024 enhances the ability to gain deeper insights into the injection molding process. After running a study, users can simultaneously display four different result plots using split view panes to help analyze data more comprehensively. Synchronize views for a consistent perspective and save the split view as an image for future reference.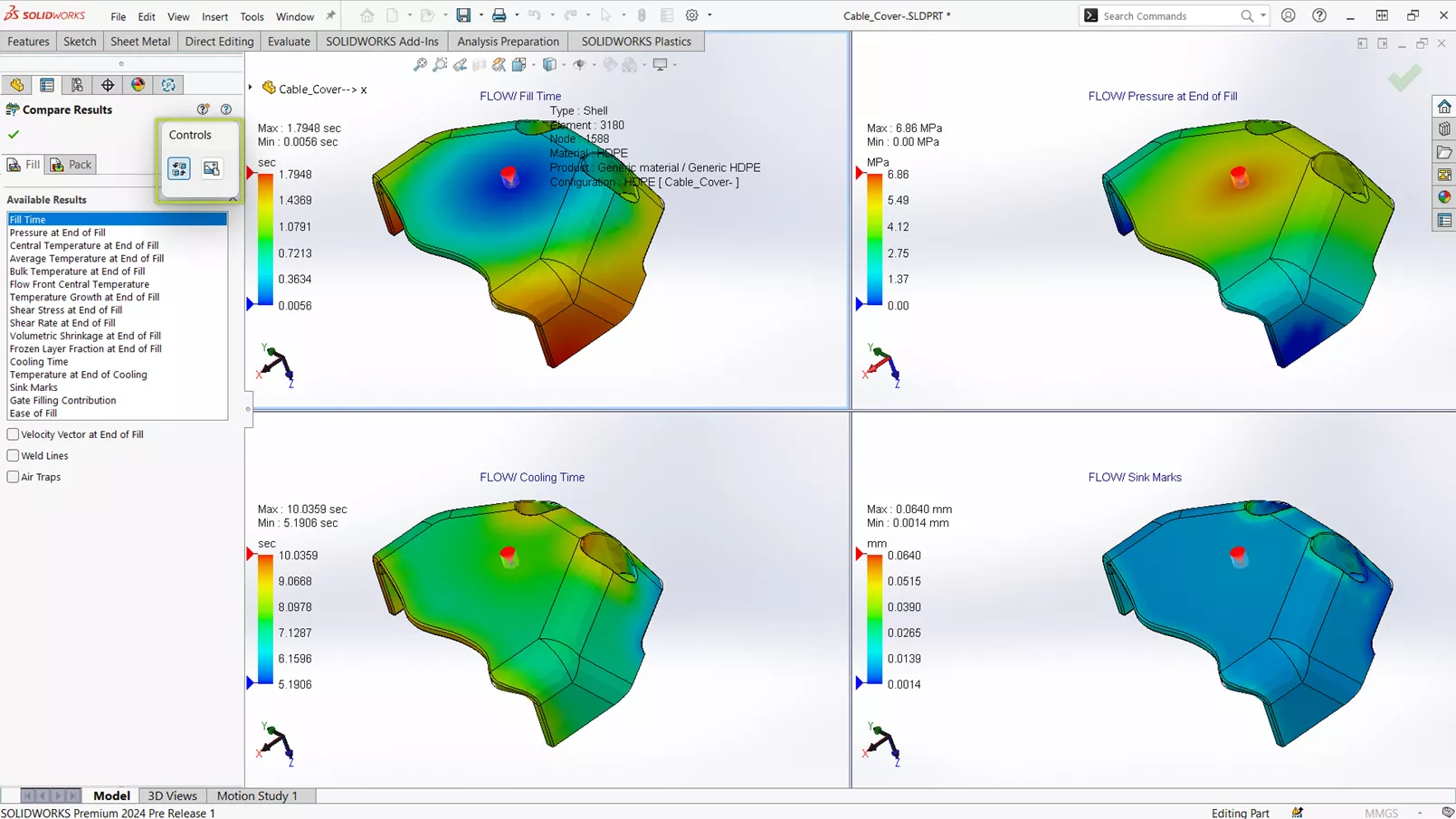 Cool Solver: Optimize Cooling Time
Efficient cooling is crucial in plastic injection molding. The Cool Solver in SOLIDWORKS Plastics 2024 enhances the performance of simulations for thermoplastic materials. Specify the cooling time or let the solver estimate it based on temperature ejection criteria. This feature offers the flexibility to fine-tune the cooling process based on specific use-case scenarios.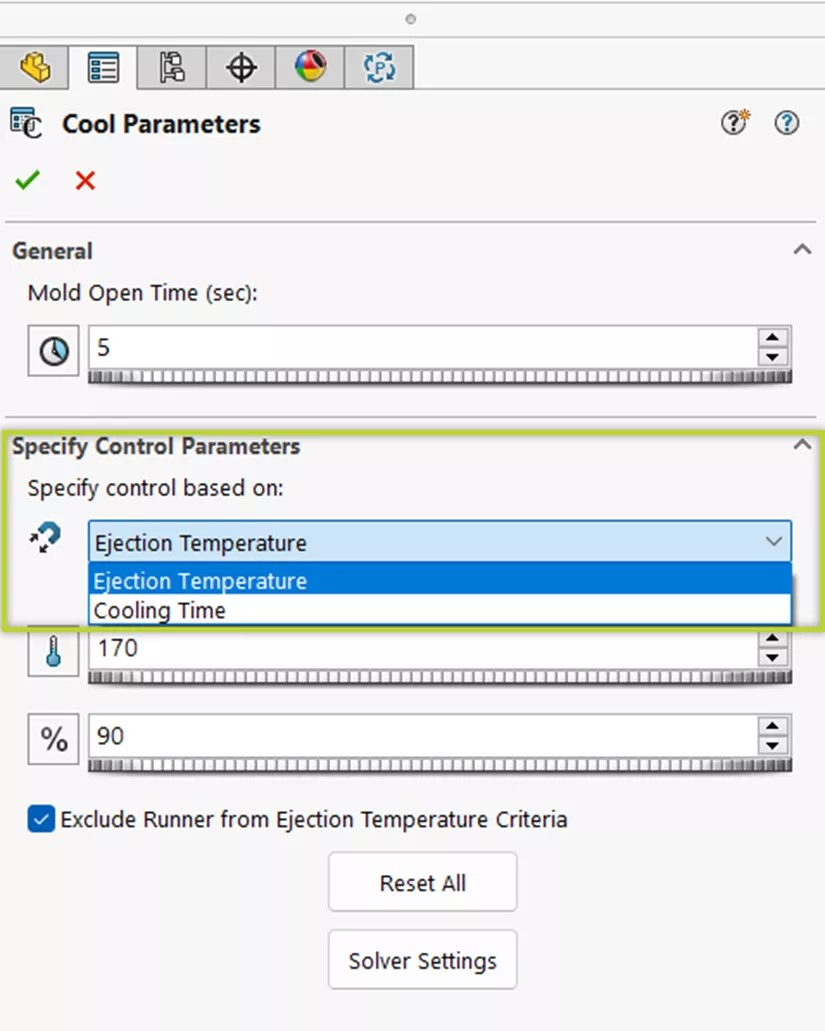 Hot and Cold Runners: Streamlined Assignments
Assigning hot or cold runner domains to components of a plastic injection simulation is now more straightforward. With a simple right-click, users can designate whether a component should be a Hot Runner or a Cold Runner. This enhancement streamlines the setup process and ensures simulations are accurate.

Mesh Enhancements: Better Control
Meshing is a fundamental aspect of simulation, and SOLIDWORKS Plastics 2024 offers more control and flexibility. We can now save mesh settings without creating a mesh, making it easier to replicate simulations.

Additionally, we can preview a surface mesh before generating a solid mesh, allowing us to validate the mesh's integrity. The ability to show and hide the mesh preview helps the workflow if mesh refinement needs to be added. Hiding the preview makes it easier to select faces to apply refinement.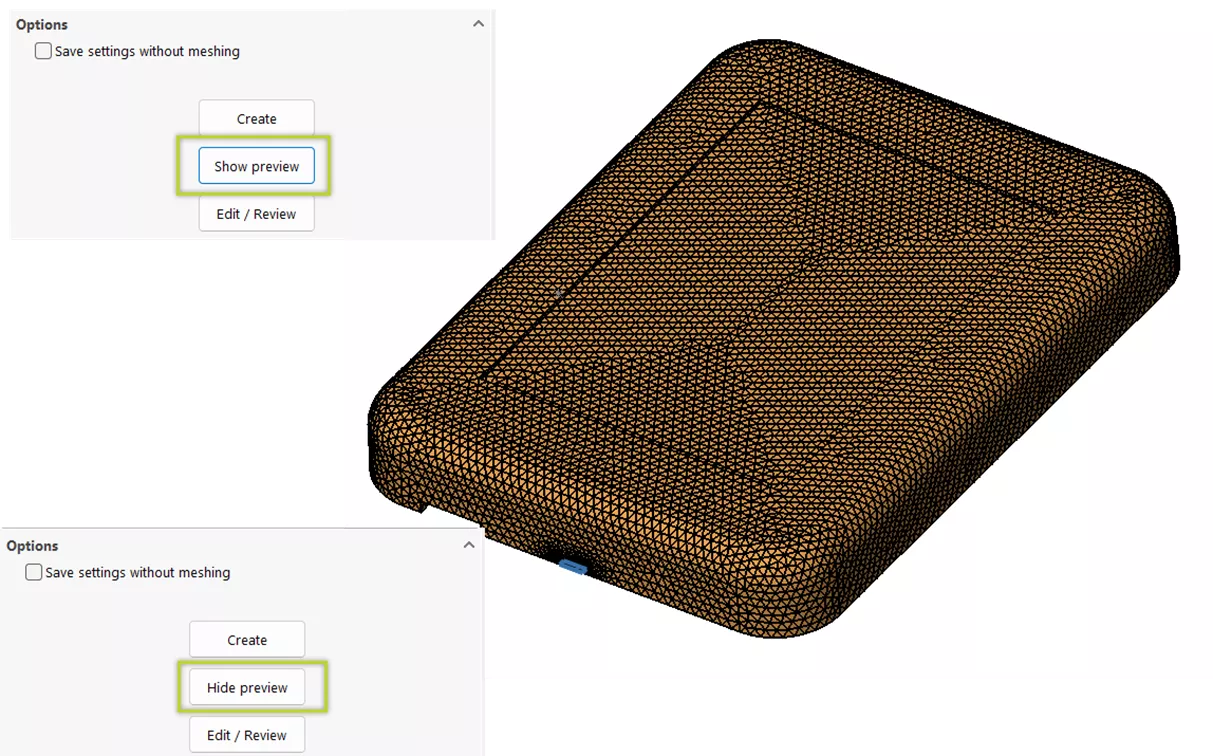 Pressure-Dependent Viscosity: Realistic Simulations
Materials with pressure-dependent viscosity are a reality in the world of plastic injection molding. SOLIDWORKS Plastics 2024 introduces support for these materials in Fill and Pack simulations. This feature is particularly important for parts with long flow lengths, thin walls, or high injection pressure requirements.
Materials that have pressure-dependent viscosity are listed in the Plastics Materials Database with an information icon.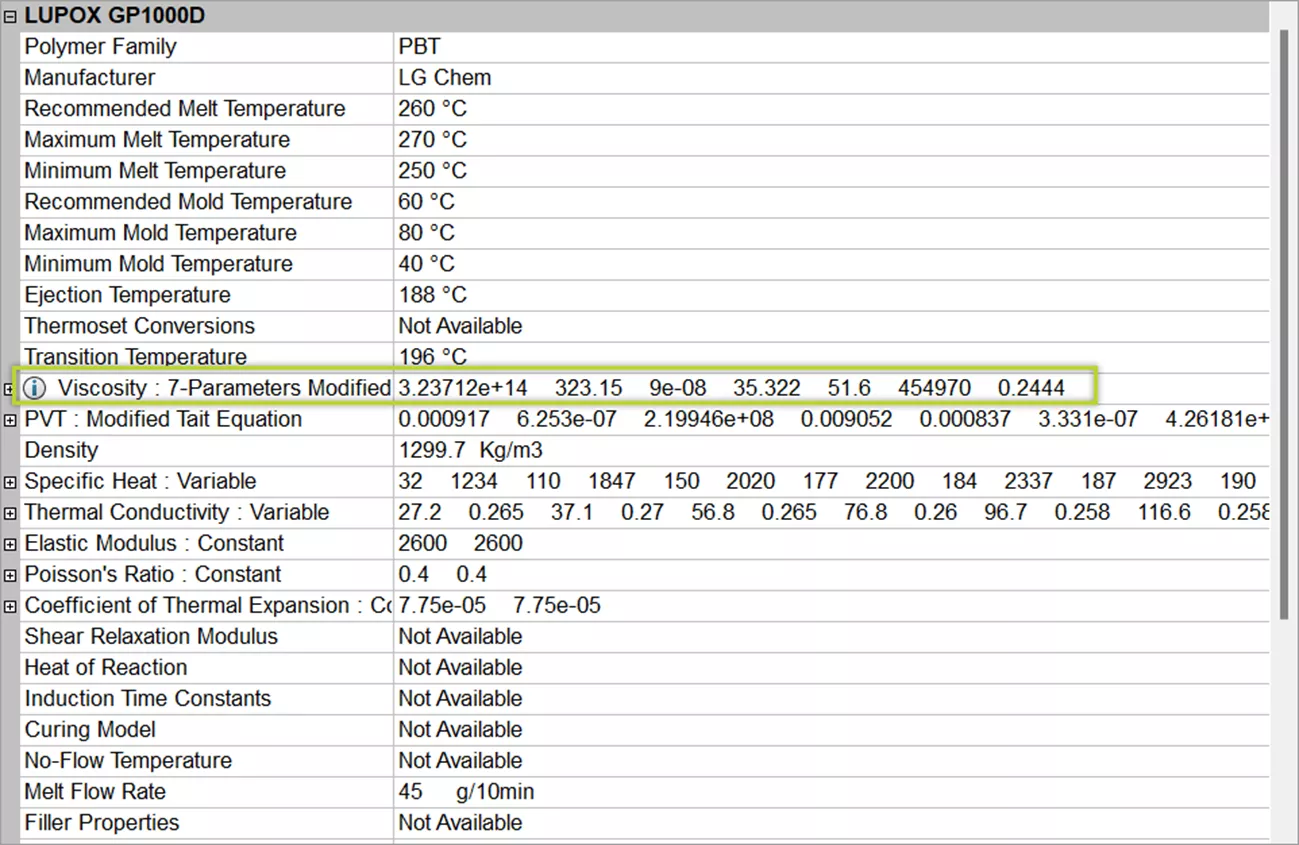 Expanded Material Database
In 2024, the material database in SOLIDWORKS Plastics received significant updates. It now includes 417 new materials grades, updates to 40 materials, and the removal of 292 obsolete materials. This extensive database ensures users have access to the latest and most relevant material properties for their simulations.
SOLIDWORKS Plastics 2024 continues its tradition of innovation and excellence in plastic injection molding simulations. With new automation features, enhanced control, and expanded material options, engineers and designers can achieve higher levels of accuracy and efficiency in their plastic part designs. Stay ahead of the curve with SOLIDWORKS Plastics 2024 and revolutionize your plastic injection molding process.
On-Demand Launch Event
WATCH THE ON-DEMAND LAUNCH EVENT
Want more SOLIDWORKS 2024? Register now to join our virtual launch event on-demand to see everything new in the latest release. Our experts walk you through each enhancement across the entire SOLIDWORKS portfolio including Simulation, CAM, PDM, Electrial, 3DEXPERIENCE, and more.
Check out more new features and enhancements in SOLIDWORKS 2024 below.
More What's New in SOLIDWORKS 2024
SOLIDWORKS Flow Simulation 2024 - What's New
SOLIDWORKS 2024 Sheet Metal Updates – See What's New
What's New SOLIDWORKS 2024 Structure Systems
SOLIDWORKS 2024 STEP File Import Filter
What's New SOLIDWORKS 2024 Assemblies