Are you having issues upgrading your SOLIDWORKS service pack due to a previous toolbox error? If you see the error message shown in Figure 1 when upgrading, this article offers some solutions to an issue that may prevent a SOLIDWORKS CAD service pack update from completing. The issue presents itself when updating SOLIDWORKS and seeing this message, "Previous Toolbox detected. Select Installation Method" and the Toolbox/Hole Wizard Options are grayed out.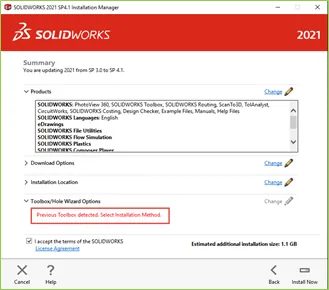 Figure 1: Previous Toolbox Error
REPAIRING SOLIDWORKS
If the update fails to complete, the first step is to repair SOLIDWORKS. Open the Control Panel and find Programs and Features.
Locate SOLIDWORKS in the list, right-click SOLIDWORKS 20xx SPx, and choose Change. (Figure 2)