In this post, we're going to take a look at some of my favorite enhancements with the recent 2023x FD02 release of the 3DEXPERIENCE Platform. I've hand-picked these items, but be sure to reference the complete list of updates found in the public communities.
Suggested Articles:
>> 3DEXPERIENCE Platform 2022x FD03 Release: Top Enhancements
>> 3DEXPERIENCE Platform 2022x FD02 Release: Top Enhancements
Improved Welcome App
The 2022x FD03 release of the 3DEXPERIENCE Platform introduced the 'Welcome App' for new 3DEXPERIENCE users. This streamlined the first look of the platform and simplified the steps to install SOLIDWORKS Connected or launch various roles assigned to new users.
In 2023x FD02, the Welcome App has been updated to include the Collaborative Designer for SOLIDWORKS role. Now, new users receive a default dashboard and Welcome App with a convenient link to install the connector for SOLIDWORKS. In addition to this, there is a list of design and data management apps to access, we can review training videos and more. It is like a nice warm platform hug.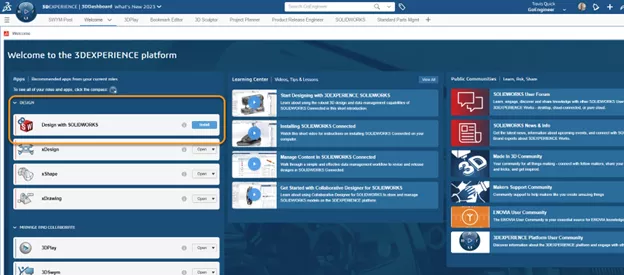 For existing users with a case of FOMO, you can experience this as well with either the new template option when creating a dashboard or by adding the Welcome App to an existing tab.
3DDashboards – Set as Default
One simple update to dashboards: we now have a Default option. Your preferred dashboard will be displayed automatically when logging into the platform.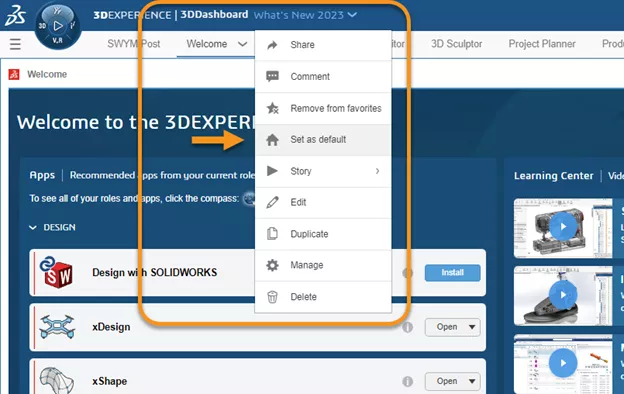 3DPlay
3DPlay has some bangers. The 3DPlay widget has been updated to include the familiar 'Home Screen'. Additionally, to simplify our first look with 3DPlay, we now have options to open content, access our most recent content, or the tried-and-true Drag-and-Drop method.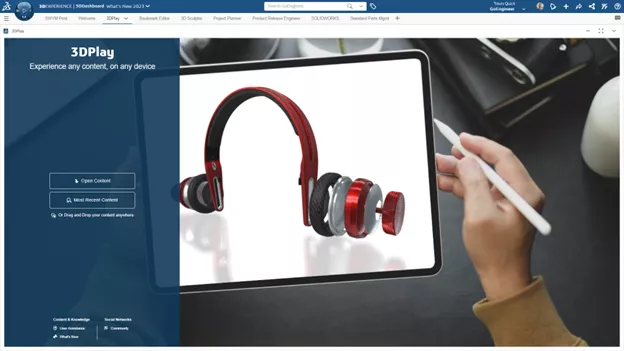 Within 3DPlay, the top bar now contains familiar icons like Comment, Share, and Information which used to be nested in the action bar. Now it is even easier to collaborate with your team.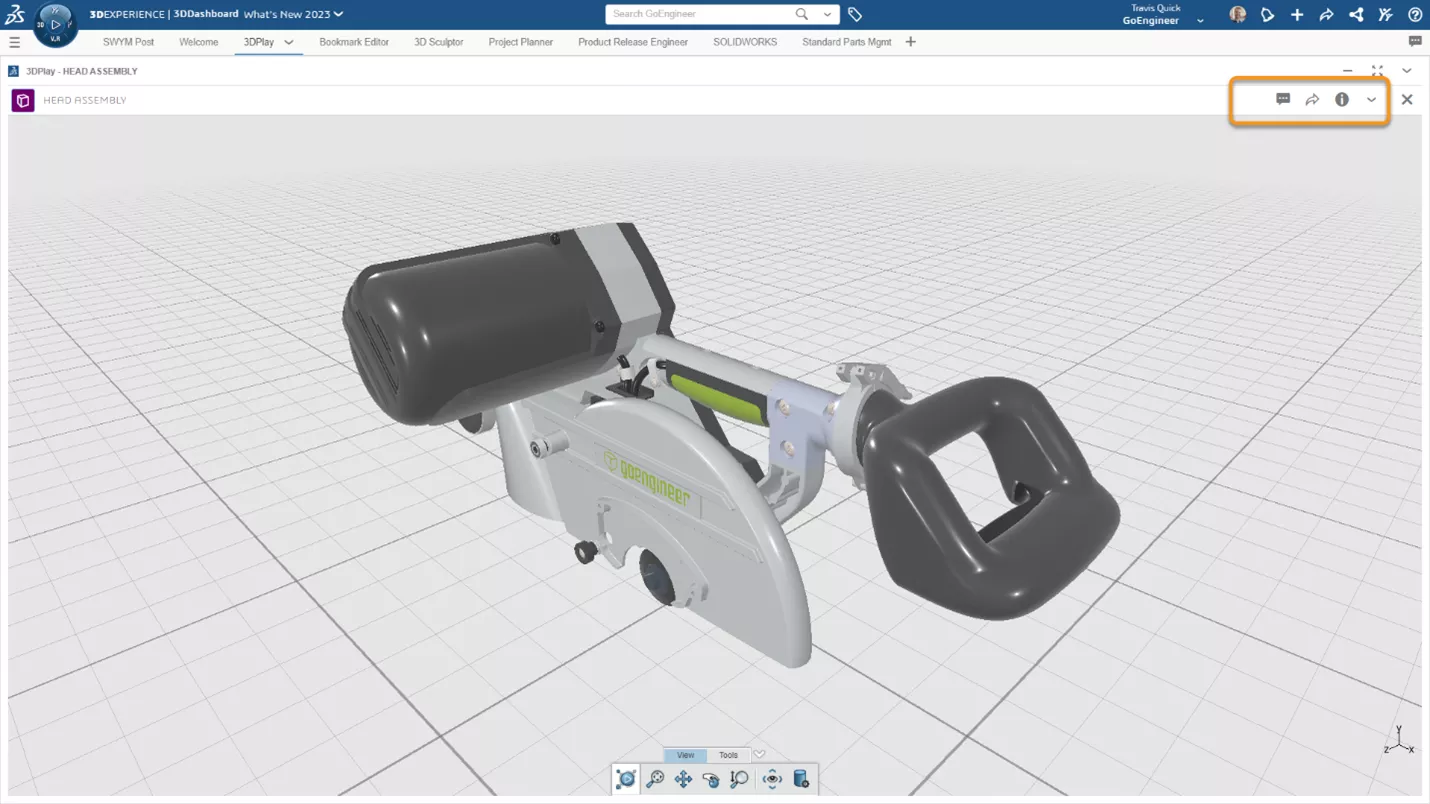 Finally, when you are done with the model, 3DPlay now has a CLOSE button. Click the "X" in the top right corner and the active file will be closed. Awesome!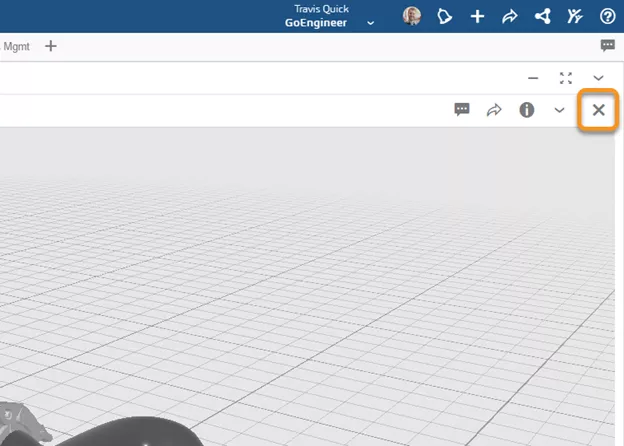 Easier Reuse in Bookmark Editor
There are some neat updates with the Bookmark Editor in the latest release of 3DEXPERIENCE. If you have not been using Bookmark Editor, this is your Windows folder structure-like environment within 3DEXPERIENCE. It's extremely helpful for navigating and referencing files.
Previously, we could copy bookmarks. However, a potential pitfall is that the copied data would be duplicated to the new location and managed separately from the original. A new option has been added when copying bookmarks to copy as a shortcut. The result is, instead of copying the data to the new location, a reference is added, directing us back to the original location. Managing information just got easier and reinforces our single source of truth.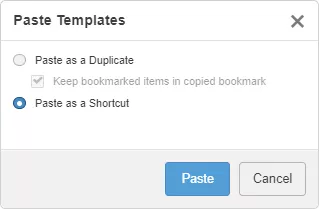 Another cool feature in the Bookmark Editor is the new 'Information' icon in our toolbar.

This new button displays the same information as our side panel but in a pop-out window. This new window can be pinned to a dashboard giving you greater flexibility for displaying information.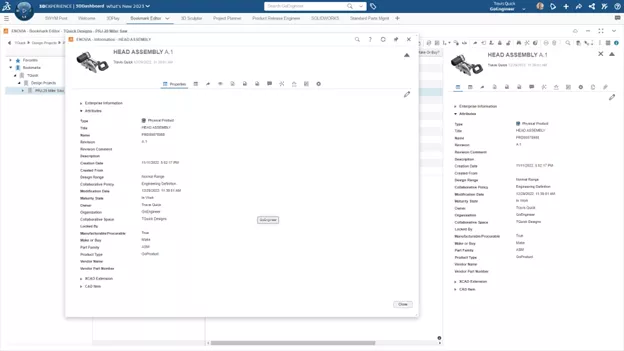 New to the 2023x FD02 Bookmark Editor is the ability to select a part or assembly and select "Export As" to export a "CAD files" package. This reduces the steps and effort required to export a data package from the Platform.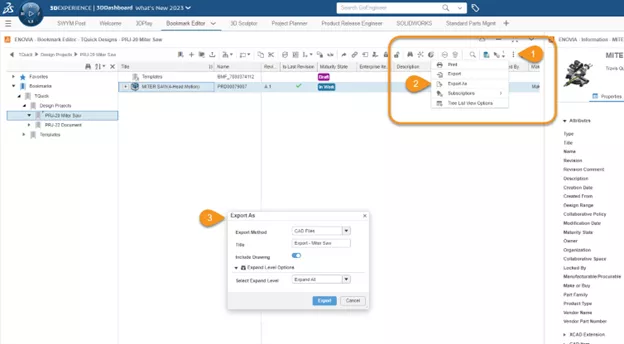 **Note: exporting a CAD files package still REQUIRES the user has been assigned either the Collaborative Designer for SOLIDWORKS or 3DEXPERIENCE SOLIDWORKS roles. **
Added Flexibility with Project Planner
For customers taking advantage of the Project Planner role, you may be excited to learn you can now take advantage of reverse scheduling by setting a project End Date and working backward from there.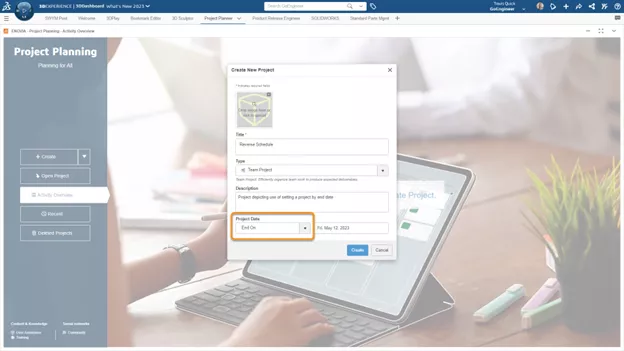 Templates for projects are also now available. Plus, when you start new projects from your new templates, the schedule plan, as well as any attachments, are included in the new project.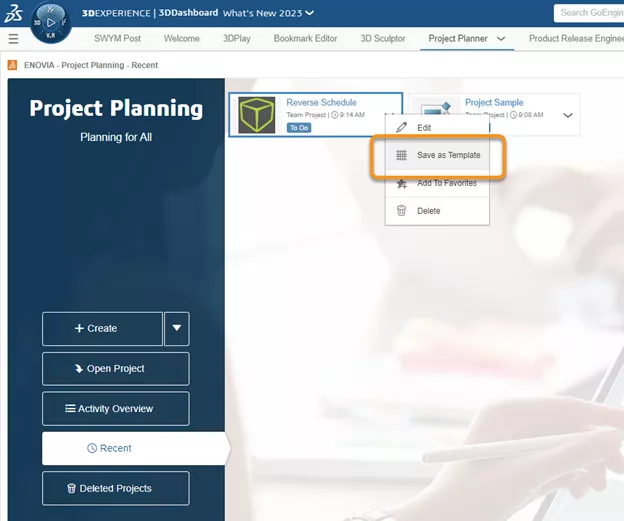 Another great feature is that you can set your project maturity state to "Published," making the project available to others.
If you manage projects within projects, you can now set a project as a sub-project or add it as a reference to another parent project. This allows greater flexibility for managing your teams.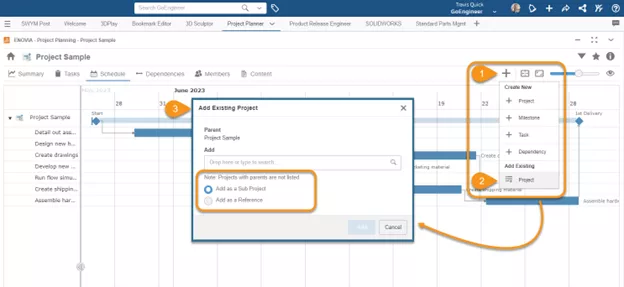 Product Release Engineer
Overall, the changes in Product Release Engineer are mostly in the user interface. The 'Export to CSV' command has been moved from its nested location in the action bar to the top bar of the application, giving you easier access to critical information.

Finding and Saving in 3DEXPERIENCE SOLIDWORKS & Design with SOLIDWORKS
There have been some small but helpful enhancements to SOLIDWORKS on the platform. First, we can now search the MySession tab for content, making it easier to find specific parts.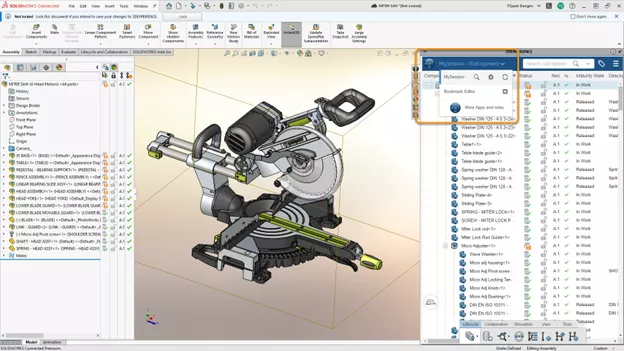 When saving, the 'Lock' option is now located next to the Save button. However, if you're following best practices, you should lock any files you PLAN to modify to minimize the potential for lost work. Also when saving, we can update revision comments for files individually from the new revision comment column! Communicating those changes just got a whole lot easier!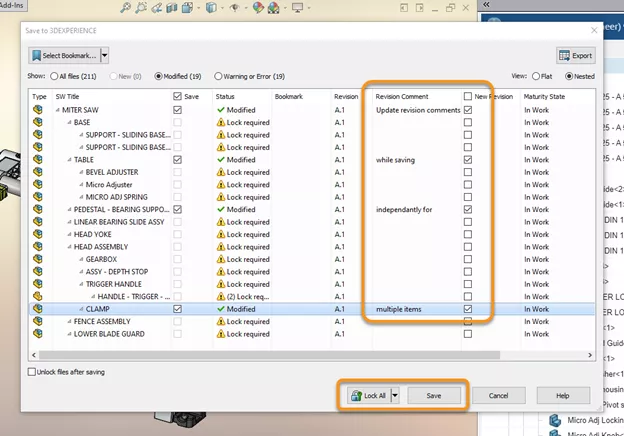 Speaking of saves, for users that are looking to avoid creating files with duplicate titles, the option to "Check File for Uniqueness" has been enhanced to BLOCK SAVE! Yes, you heard it right! Admins can navigate to Platform Manager > Content > CAD Collaboration > SOLIDWORKS > (remember to scroll through the options) Check File Title for uniqueness. The options are now Ignore, Warning at save, and Block Save.

Standard Parts Management
There are some new options surrounding toolbox hardware! A 'Standard Parts Management' section has been added to the Admin settings. This provides users the option to configure the target collaborative space and initial maturity state when uploading toolbox components! Additionally, you can now edit toolbox properties after uploading them to 3DEXPERIENCE, allowing you to add properties like Engineering Item numbers. Users can also delete unnecessary toolbox components from the collaborative space if these parts are not used anywhere.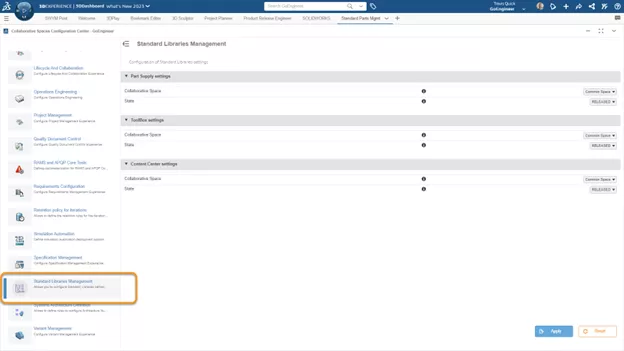 Whew!! That was a LOT of updates! If that was not enough for you, be sure to check out the posts on the SWYM communities for the full list of enhancements!
Keep an eye on the GoEngineer blog for future posts! Rumor has it that we may see Drawing formats, drafting standards, bend and gauge tables, and much more being supported on the platform soon!
Related Articles
Issue Management on the 3DEXPERIENCE Platform
3DEXPERIENCE: Install Material Databases
3DEXPERIENCE SOLIDWORKS Update Revisions
3DEXPERIENCE Apps Local Installation: Setup, Versions, & More
How to Import SOLIDWORKS Parts Into 3DEXPERIENCE