Each year SOLIDWORKS maintains the included software guides and the majority of these guides are available online or from inside the software located under the Help pull-down menu.
However, there is a little-known guide that is deep inside the installation folders that few users even know existed. This hidden guide can be extremely beneficial for new SOLIDWORKS PDM users who could use some reference material as they get started with PDM.
The guide is a PDF file called Getting Started and is located deep inside the installation location of the SOLIDWORKS PDM software. By default this path is:
C:\Program Files\SOLIDWORKS Corp\SOLIDWORKS PDM\Lang\GB
Please note that if you installed to a different location other than the default you may need to adjust the above path accordingly.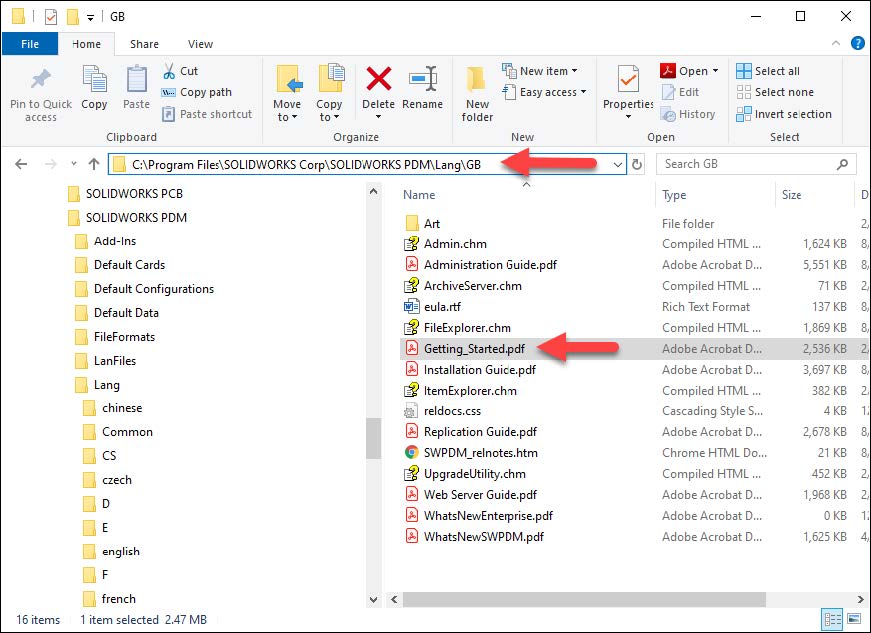 This guide includes sections on the client explorer vault views, searching, checking in and out files, workflows, and much more. Both PDM Standard and Professional users can benefit from the information in the guide and any PDM Professional only functionality is clearly marked.
More SOLIDWORKS PDM Guides
Ultimate Guide to SOLIDWORKS PDM Permissions
SOLIDWORKS Manage Client Install Guide
SOLIDWORKS Enterprise PDM SQL 2014 Installation Guide
Troubleshooting SOLIDWORKS PDM Vault Connection Issues
Troubleshooting Workflow Revisions in SOLIDWORKS PDM