By leveraging the 3DEXPERIENCE Smart Manufacturing 2024 tools, you can put your company's future in the driver's seat by having real-time communication between the shop and the engineering department, which is critical to getting parts out the door on time. Communication across a company is important, but it's important to ensure everyone has access to make decisions based on the same data.
What's New for 3DEXPERIENCE Smart Manufacturing 2024
The NC Shop Floor Programmer allows users to create and simulate 2.5 & 3-Axis NC programs in an offline virtual environment for early set-up validation and qualification to mitigate errors and rework and reduce NC programming time.
The virtual manufacturing cell keeps associativity with design, ensuring concurrent engineering with a Single Source of Truth for all shop floor resources and NC processes to eliminate communication errors.
Added functionalities include:
Note: The above items are included with all 3DEXPERIENCE NC Programming roles.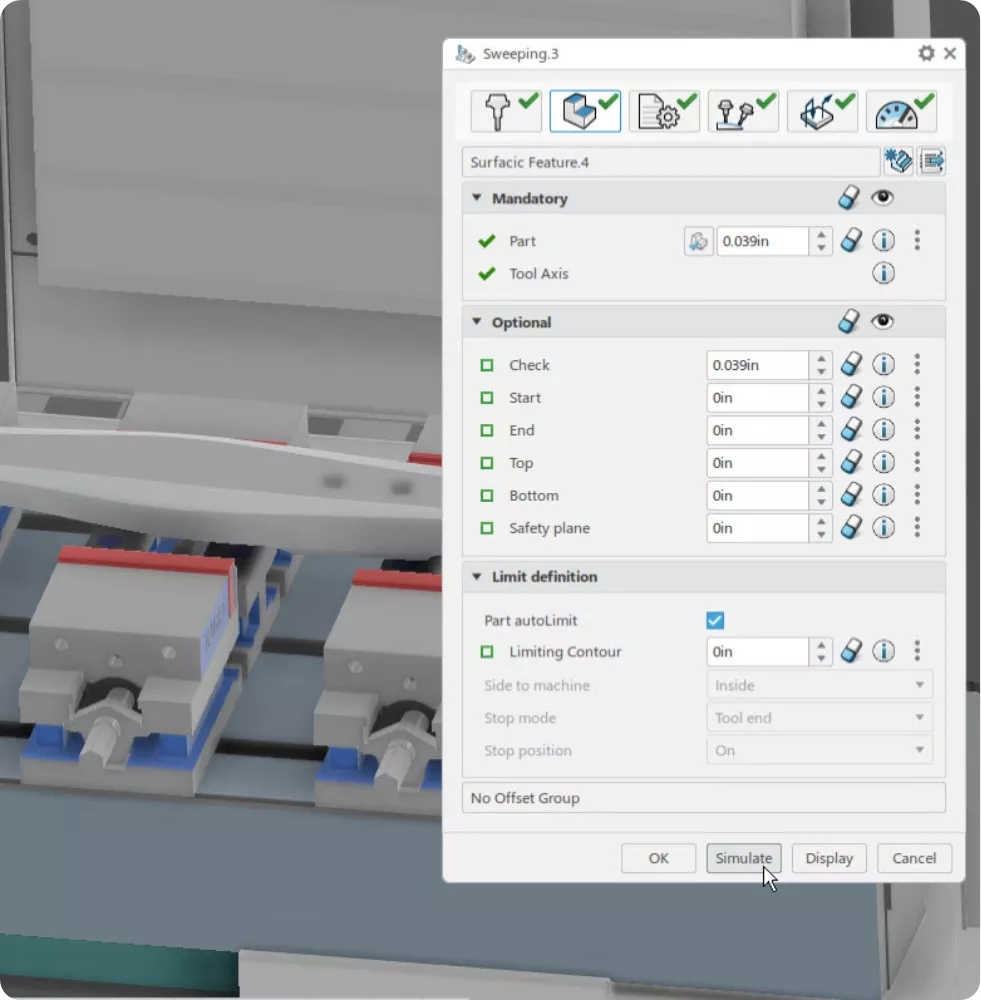 Validating Parts for Manufacturability
All 3DEXPERIENCE NC Programmer roles include the Manufacturability Check app. In SOLIDWORKS, this app is comparable to the Design for Manufacturability tool known as DFMXpress.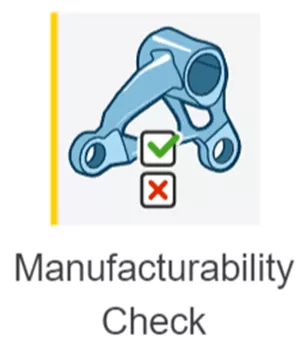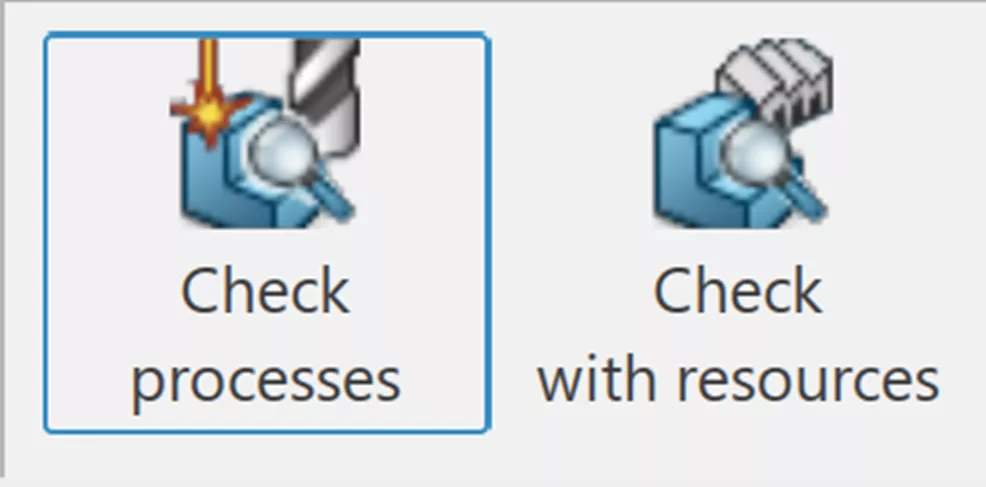 Manufacturability Check allows users to validate parts in a virtual offline 3D environment on a CNC machine to check for part manufacturability based on company-specific design standards (e.g., standard hole sizes, depths, and depth of flat-bottomed holes).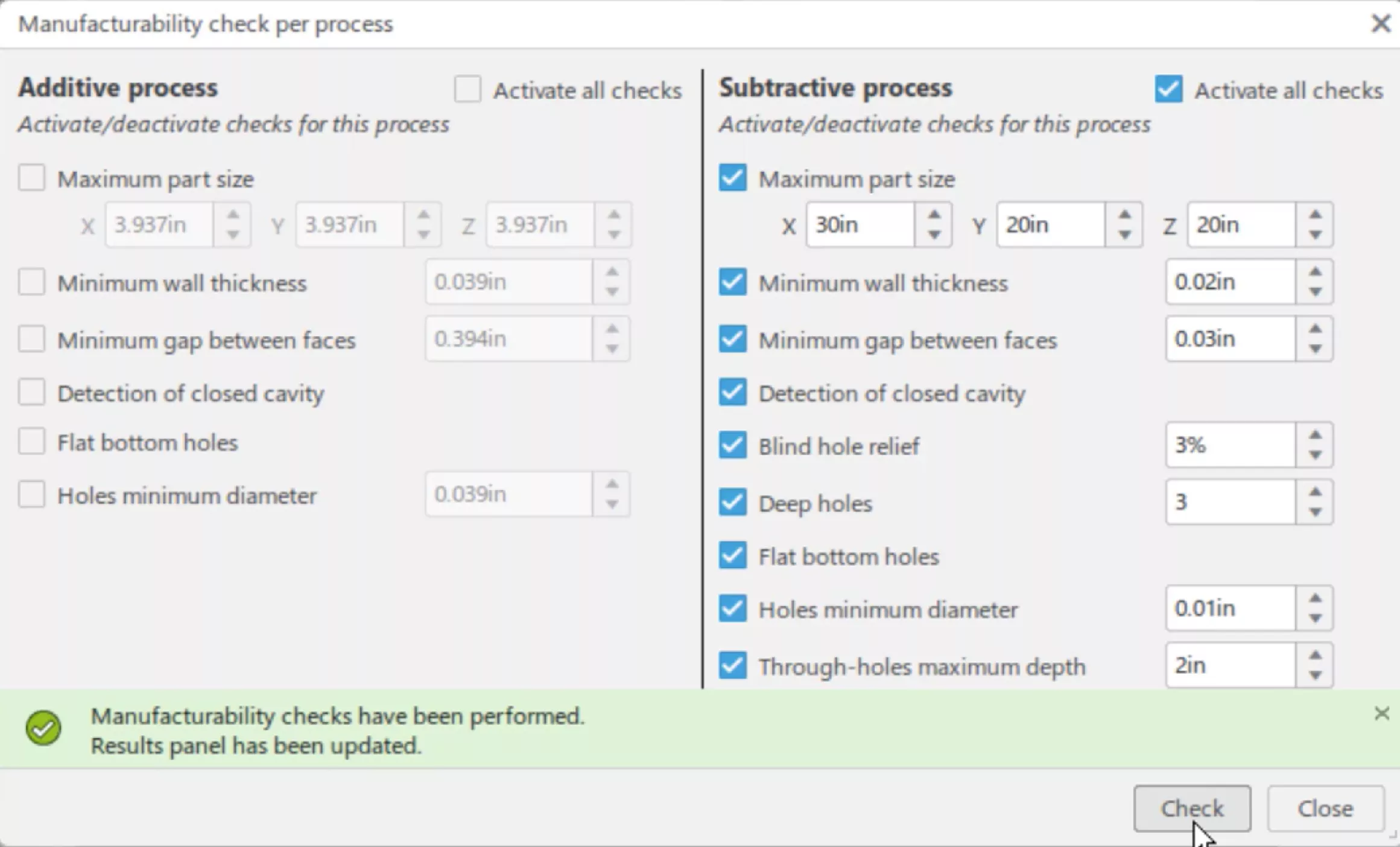 Manufacturing parameters can be set to analyze both additive and subtractive processes for quoting and process planning on the shop floor.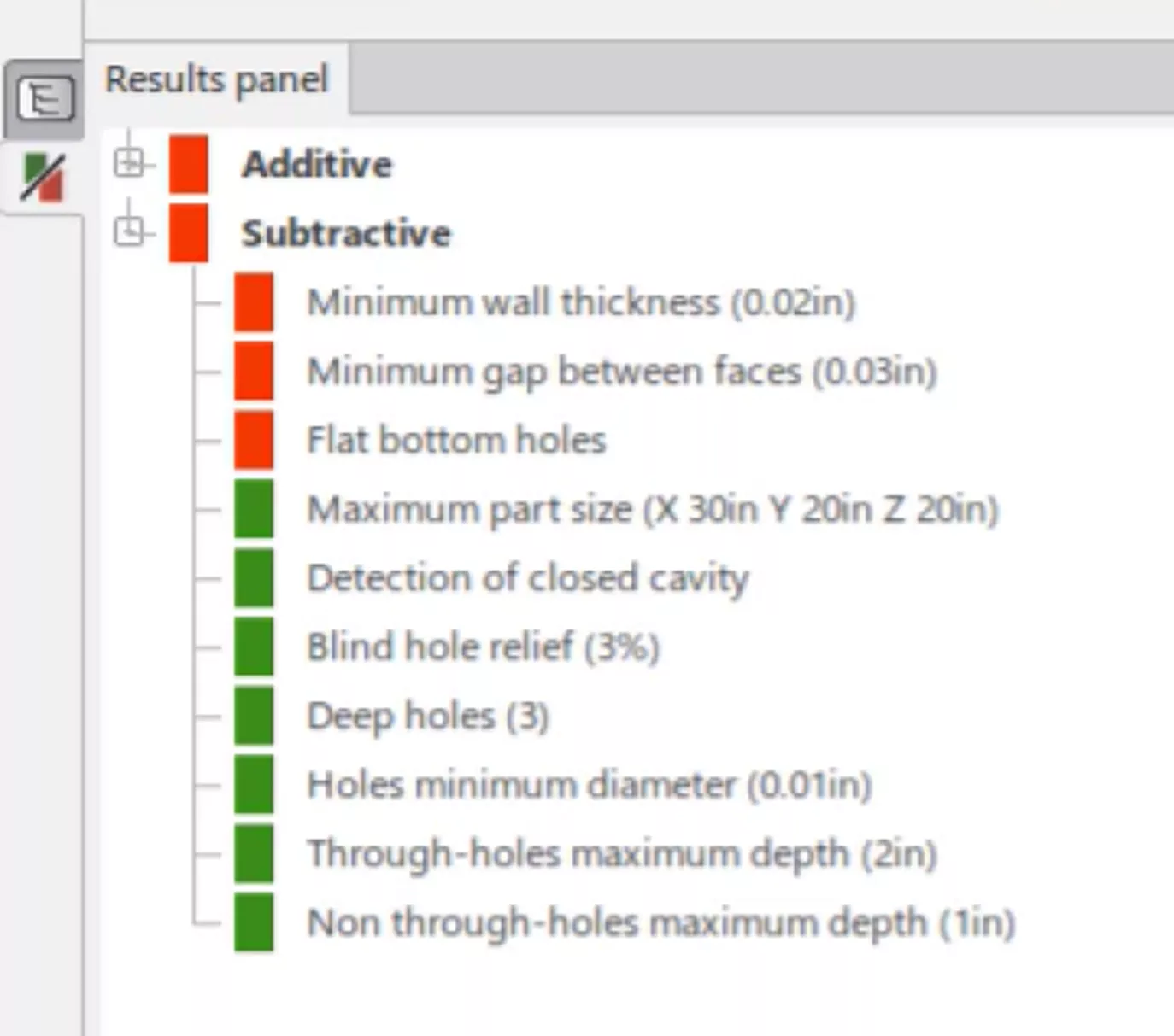 Spot an issue? Use the 3D Markup feature to send details to the engineer. Quickly insert text and graphics to help convey the issue.
Snapshots can also be created of the 3D model and quickly sent out for review all while remaining in the 3DEXPERINCE Platform.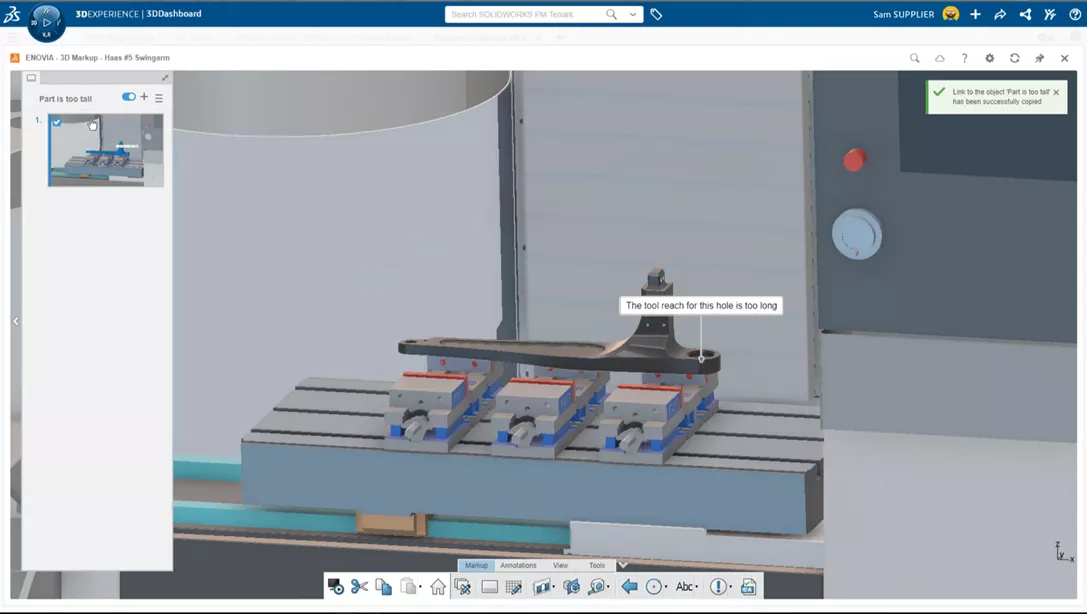 Once a part is finalized, replace the existing part with the new revision without the need to open and place the part again.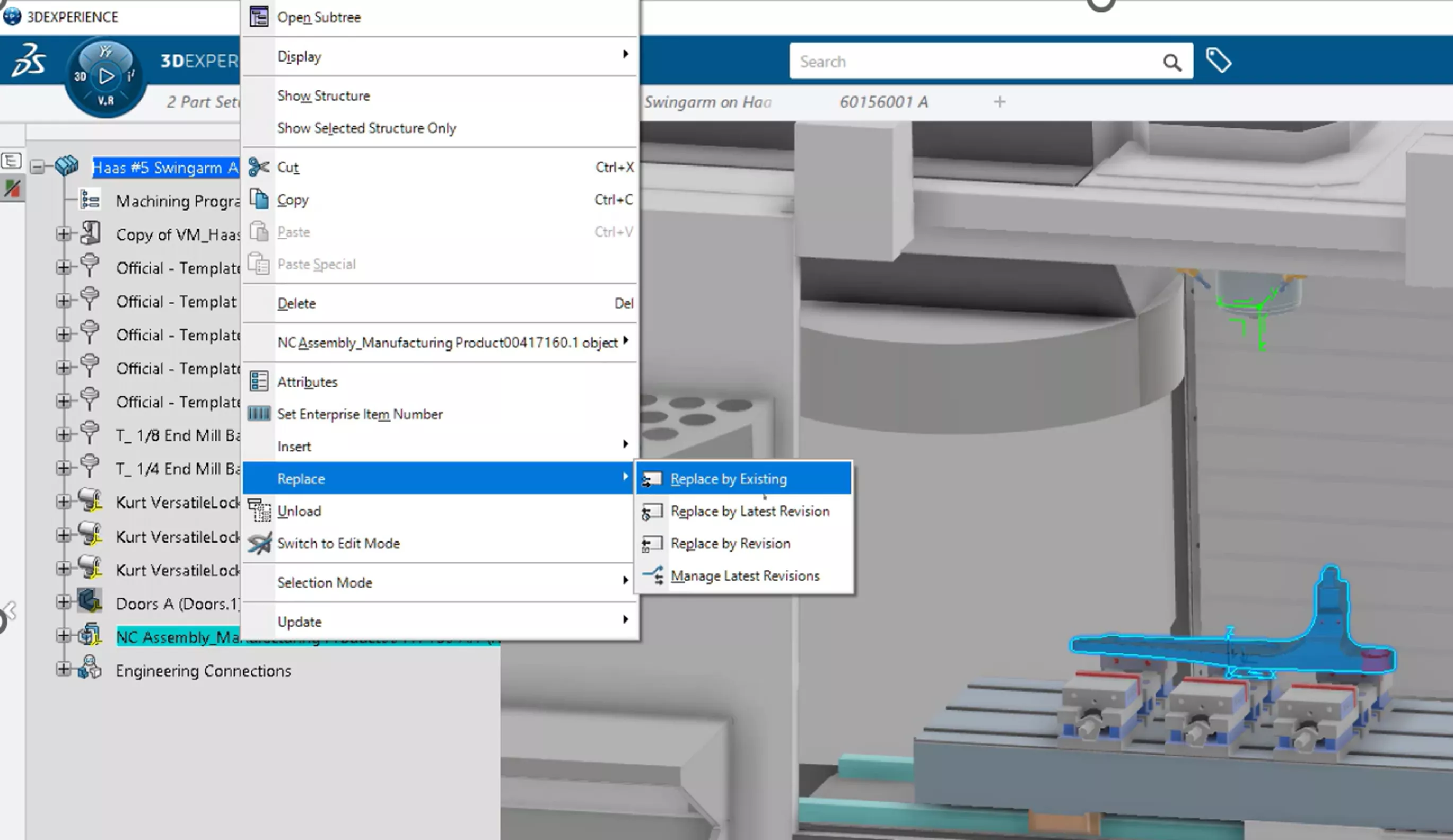 Finally, run the revised part through the manufacturability check one last time for verification before it's sent off for manufacturing.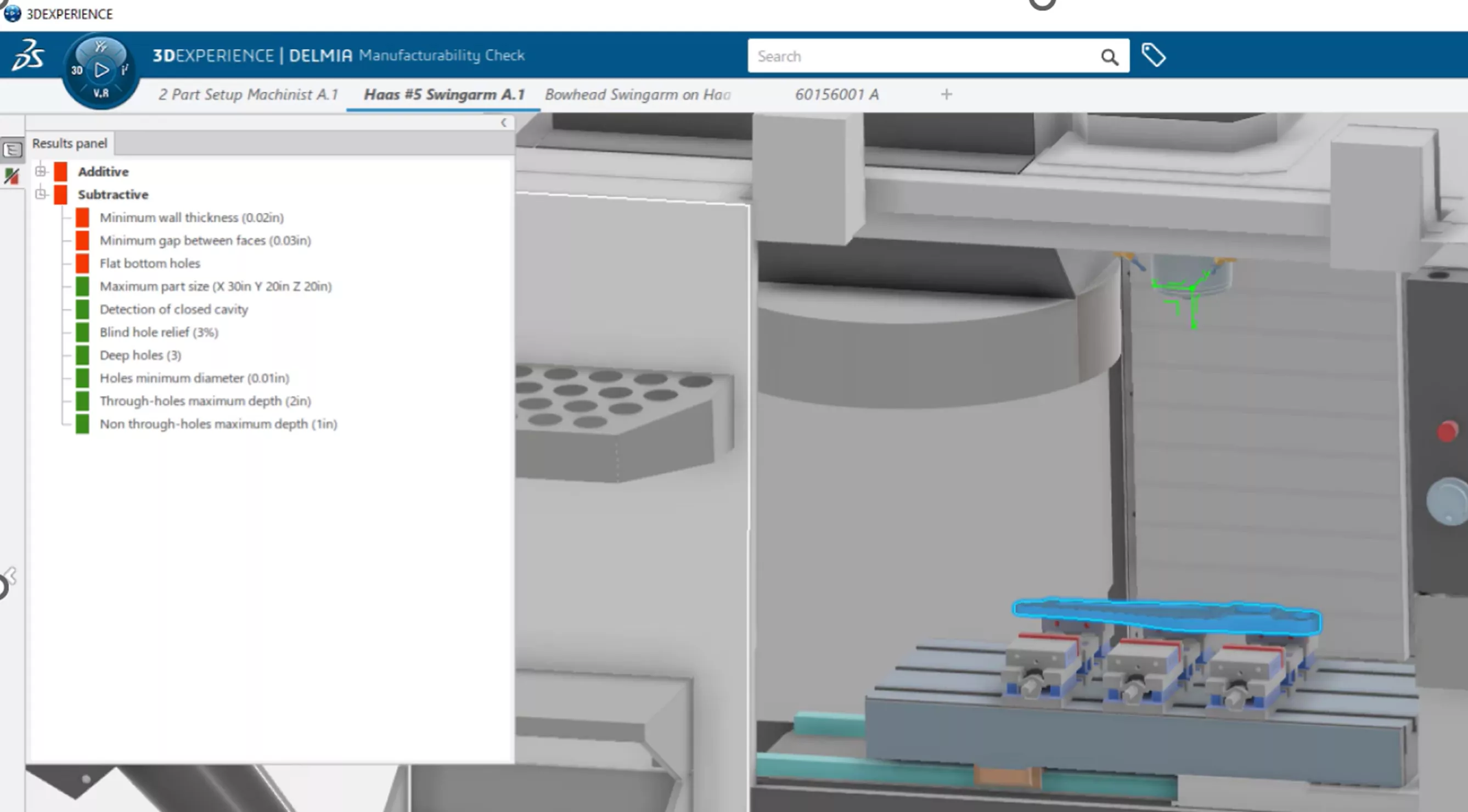 3DEXPERIENCE Shop Floor Programmer
Since a part is validated for manufacturing in a digital twin virtual environment, when it is time to start programming the part, just open the same manufacturing cell already created in the 3DEXPERIENCE Shop Floor Programmer to begin programming the part.
The machining cell was created from a machining cell template which includes tooling and fixtures, eliminating the time-consuming task of loading tools and placing vises.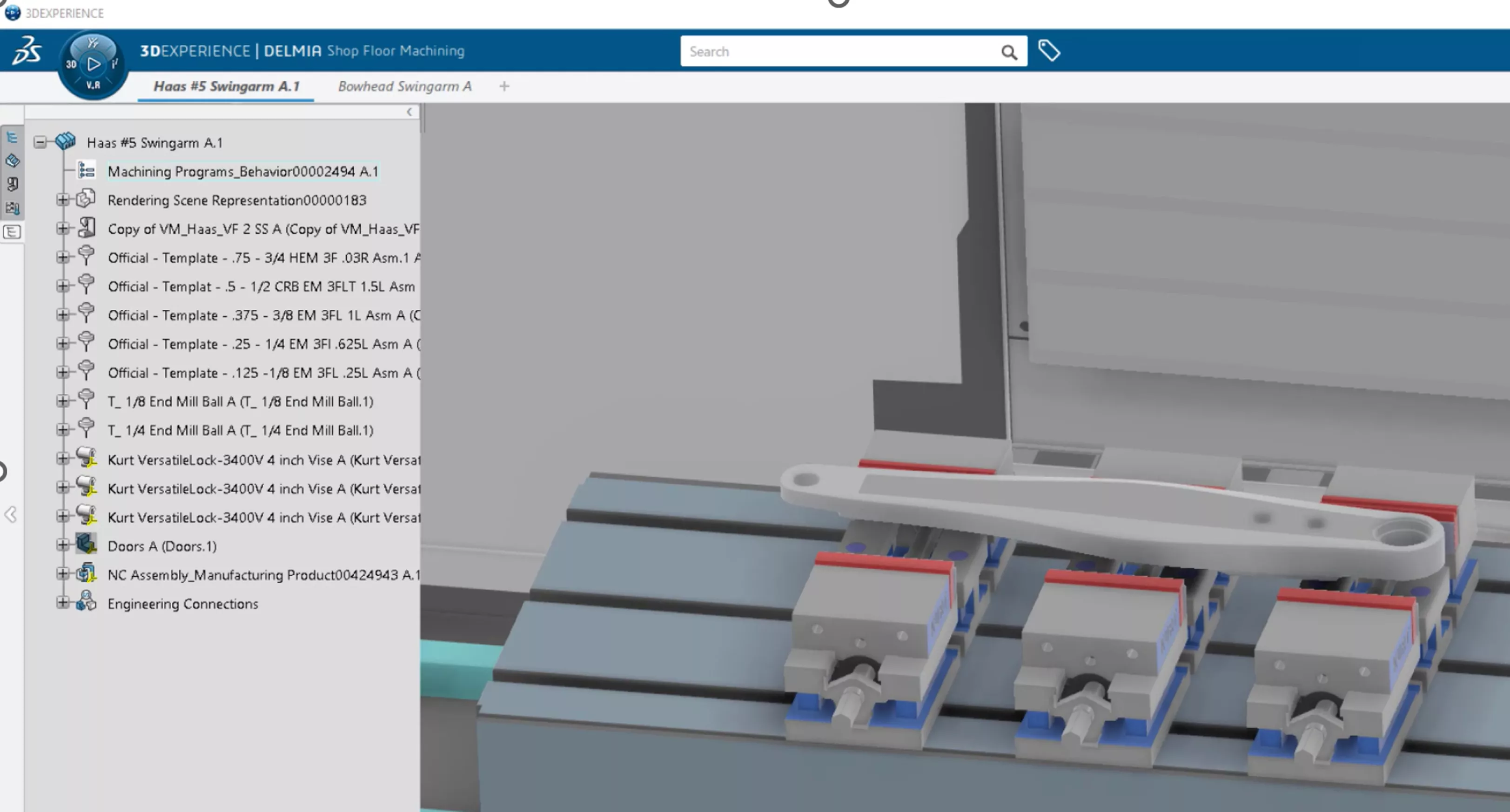 With easy-to-follow pop-ups and the Machining Wizard, the Shop Floor Programmer role for machining takes a lot of the guesswork out of programming parts.
All toolpaths are displayed using the kinematics of your actual machine. 3DEXPERIENCE creates a virtual twin that accurately shows what will happen on the manufacturing floor.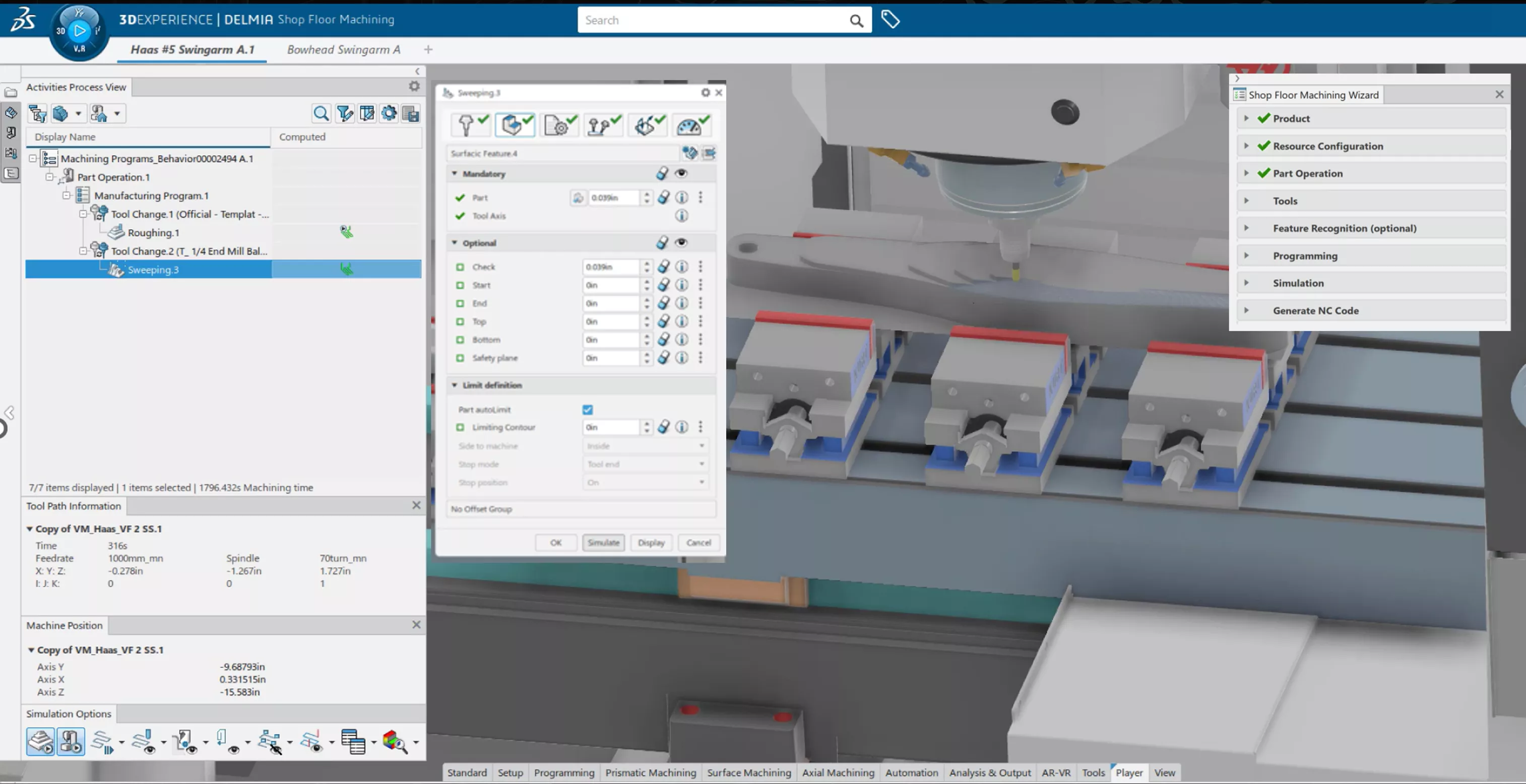 3D
XEPERIENCE
Robot Programmer Essentials
For many reasons, industrial robotics are becoming a standard in manufacturing facilities. Although the use of industrial robots has become more common, programming them can still be a challenge.
The 3DXEPERIENCE Robot Programmer Essentials role gives users the power to easily program, simulate, and validate multiple brands of robotic arms for machine tending, arc welding, pick & place, cutting, and adhesives applications.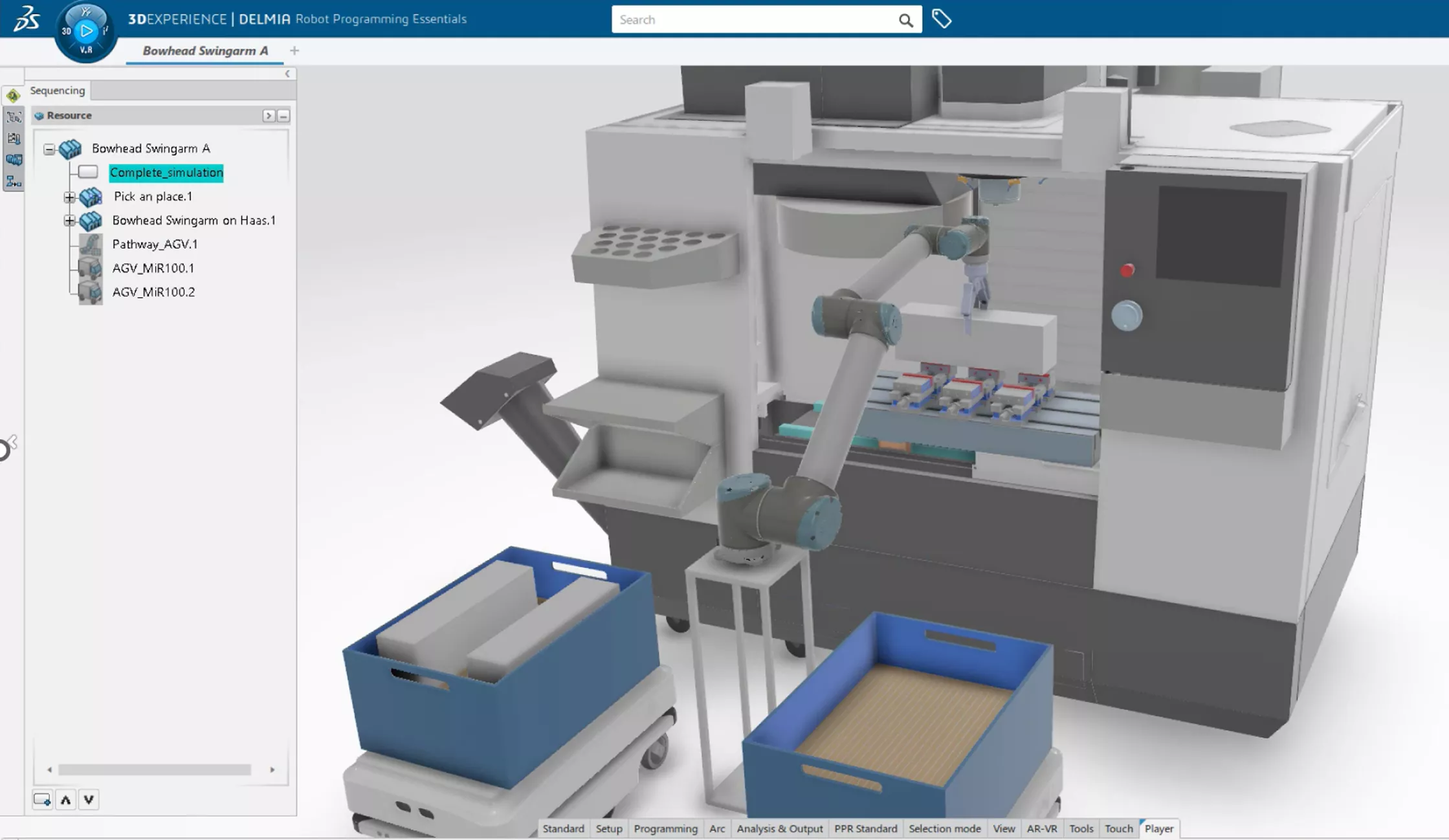 3DEXPERIENCE Robot Programmer
Applications:
Arc Welding
Adhesives
Cutting
Machine Tending
Pick & Place
Offline Programming with Robot Translators
Equipment, Tooling, and Workcell Layout:
Kinematics for End Effectors, Clamps, & Fixtures
Positioning Tables
Gantries & Rails
Robot Libraries
Because programming is performed offline, your equipment can stay up and running while you program, simulate, and validate new tasks.
3DEXPERIENCE Robot Programmer lets users easily place robotic arms by showing possible locations based on the robot's reachability based on the green grid squares.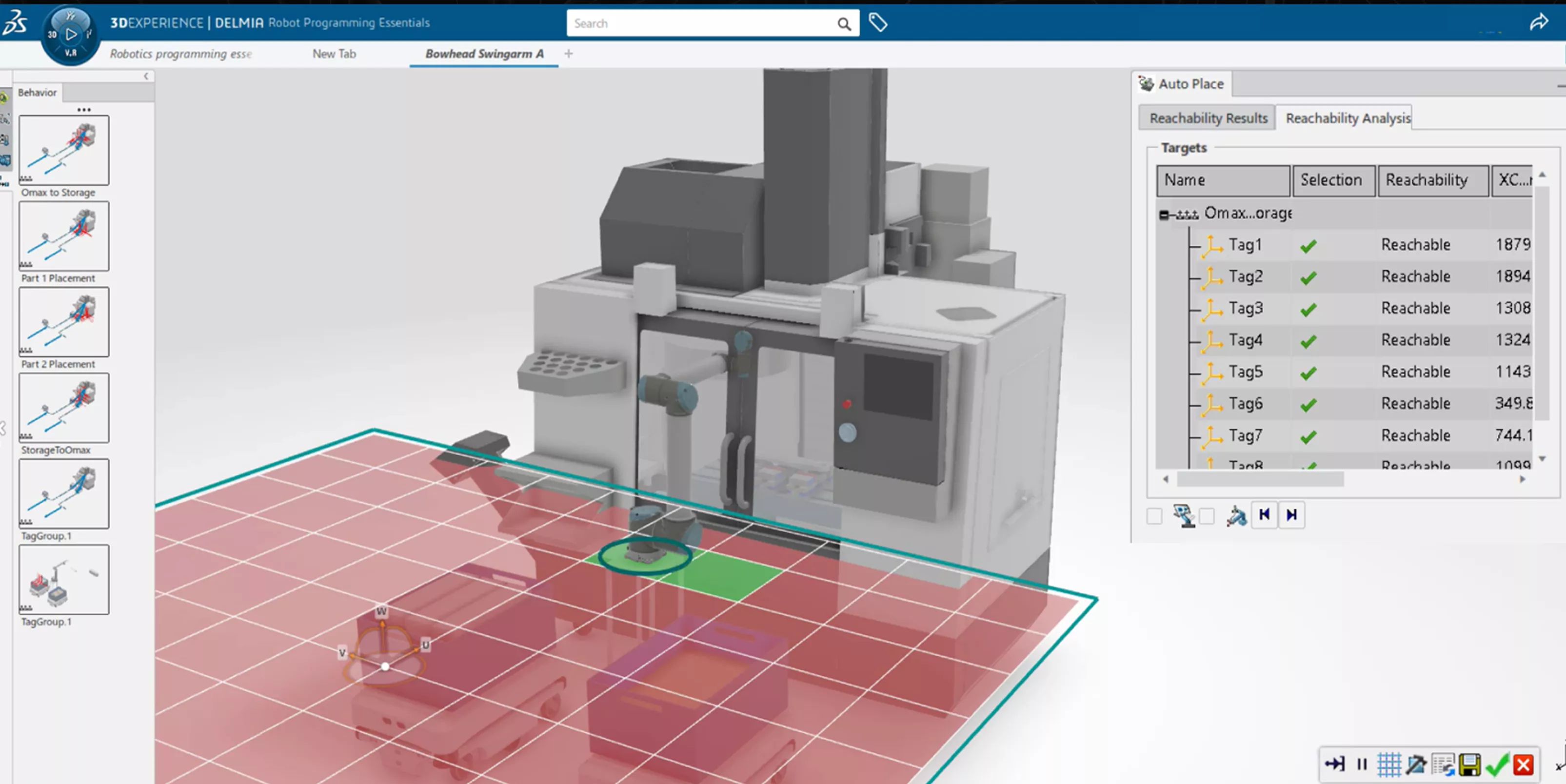 Additionally, use manufacturing cells to create a virtual twin of a factory floor.
3D
EXPERIENCE
Factory Simulation Engineer
With 3DEXPERIENCE Factory Simulation Engineer, users can simulate and optimize material flow and resources using a virtual twin of any facility.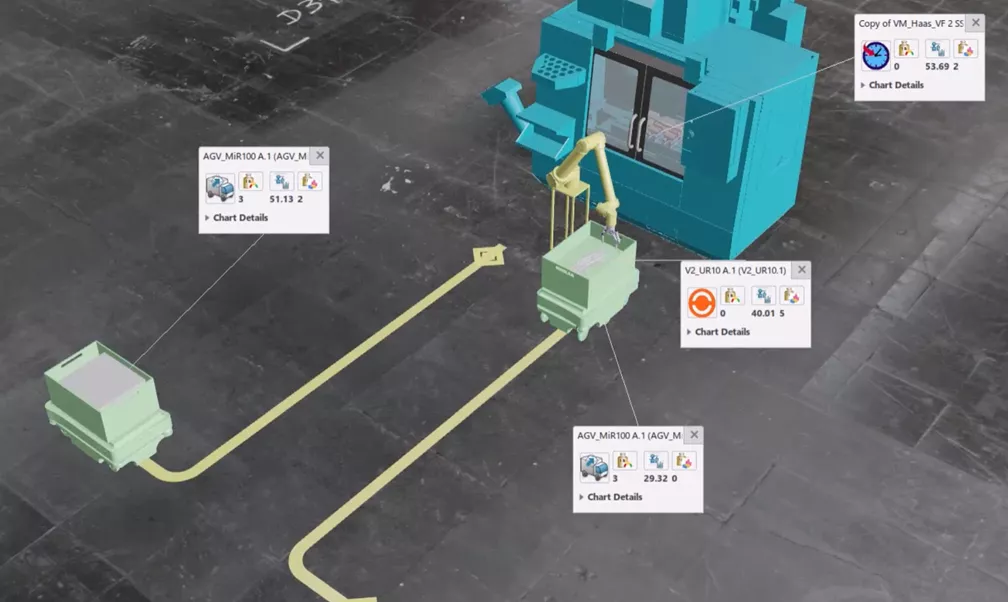 3DEXPERIENCE Factory Simulation Engineer
Applications:
Production system throughput
Perform "as-Is" and "What-If" analysis
Bottle Neck identification
Resource KPI monitoring
Inventory Tracking (WIP) upon production rate
Descrete Event Simulation with random events support (failure, missing parts, cycle time) to simulate an hour, a day, a week, or months
Push Pull-Mode Support capabilities
Calendar Shift, Lot, Sequence Schedule
AGV Simulation / Human Path generation / Robotics integration
Create Machine Resources and add kinematics
Manufacturing Resources library
ONE Single 3DEXPERIENCE Environment
With an accurate, scalable representation of a facility, users can optimize layouts, plan for expansion, and create flow studies to ensure the most efficient production environment.

From programming CNC machines and robots to creating the optimum production floor layout, 3DEXPERIENCE Works Manufacturing Solutions are ready to help you expand your horizons. With the 3DEXPERIENCE Manufacturing Portfolio inside of 3DEXPERIENCE Works, data is collected throughout the process. From analyzing the part to shipping it out the door, all stakeholders have real-time visibility to make fast and accurate decisions.
On-Demand Launch Event
WATCH THE ON-DEMAND LAUNCH EVENT
Want more SOLIDWORKS 2024? Register now to join our virtual launch event on-demand to see everything new in the latest release. Our experts walk you through each enhancement across the entire SOLIDWORKS portfolio including Simulation, CAM, PDM, Electrial, 3DEXPERIENCE, and more.
More What's New 2024 Content
SOLIDWORKS CAM 2024: Dynamic Highlight, Output Options, Tool Select Filter, & More
SOLIDWORKS Flow Simulation 2024 - What's New
What's New SOLIDWORKS 2024 Structure Systems
New in SOLIDWORKS Visualize 2024: Importing, Appearances, Interactive Images, & More
SOLIDWORKS 2024 STEP File Import Filter