PolyJet™ technology continues to push the boundaries of what is possible using traditional 3D printing. With its ability to quickly produce smooth and highly detailed parts, PolyJet has become an invaluable source for rapid prototyping and beyond.
History of PolyJet
PolyJet technology was developed by the Israeli company Objet Geometries Ltd. in the late 1990s. The company was founded in 1998 by Hanan Gothait, Rami Bonen, and Gershon Miller. PolyJet technology was first introduced in 2000 with the release of the Quadra 3D printer. It quickly gained popularity due to its ability to produce parts with high resolution and accuracy. In 2012, Objet Geometries merged with the 3D printing company Stratasys to become one of the largest 3D printing companies in the world.
Today, PolyJet is one of the most widely used technologies in various industries, including aerospace, automotive, dental, medical, and consumer goods. Over time, it has continued to evolve, with newer printers capable of producing larger parts, higher resolutions, vivid color, mixed material parts, and a wider range of materials.
PolyJet 3D Printing
PolyJet 3D printing is an additive manufacturing technology that uses a UV-curable liquid photopolymer, which produces high-resolution layers that enable the creation of complex and highly-detailed 3D models. The technology offers a broad range of versatility with a suite of 3D printers designed to suit various applications and budgets.
PolyJet can produce full-color, flexible 3D printed materials that can simulate the over-molding process in manufacturing with realistic multi-material prototypes and models that exhibit full-color elements, labels, and true-to-life textures in one operation. Stratasys PolyJet™ 3D Printers are scaled to meet diverse needs in capability and production capacity.
Stratasys PolyJet 3D Printers fall within two groups:
Monochromatic, multi-material printers
Full-color, multi-material printers
How Does it Work?
PolyJet 3D printing works by depositing small droplets of liquid photopolymer material onto a build tray layer-by-layer. The photopolymer material is then cured or solidified by exposure to UV light. The process is similar to inkjet printing, but instead of ink, the printer uses photopolymers, which are liquid polymers that harden when exposed to UV light.
Once a layer is cured, the build tray moves down, and the next layer is printed on top of the previous one. This process is repeated layer by layer until the final object is produced. Multiple print heads can be used to deposit different materials or colors, allowing for the creation of multi-material and multi-color parts. Once the printing process is complete, the part is removed from the build tray, and any support material is removed, leaving behind a fully-formed 3D printed object.
Who Uses PolyJet Technology?
Because of its versatility, nearly every industry can utilize PolyJet 3D printing. Here are a few examples of industries that utilize PolyJet.
Automotive
The automotive industry uses PolyJet technology to create functional and visual prototypes of parts, such as interior components, exterior body parts, and even engine parts. These parts can test the aesthetics, fit, form, and function of the parts before they are put into mass production.

Case Study: Italdesign uses the J Series from Stratasys to 3D print marble-effect interior parts for DaVinci concept car. Learn More
Medical
PolyJet 3D printing technology has several benefits for the medical industry. Hospitals use PolyJet 3D printers to create personalized anatomical models to aid in planning complex surgeries. Producing accurate 3D models of a patient's anatomy can assist the medical team in communicating complex procedures and conditions to the patient, reducing anxiety, and providing reassurance that they are receiving optimal care.

Case Study: Bordeaux University Hospital in France enhances kidney operations with full-color multi-material 3D printing. Learn More
Consumer Goods
In the consumer goods industry, PolyJet technology is used for creating fully functional and realistic prototypes, pre-production product photography and videography, packaging design, testing and assembly fixtures, and more.
The ability to produce highly detailed and visually appealing designs with excellent surface finishes makes PolyJet technology an ideal choice for applications where both aesthetics and functionality are critical.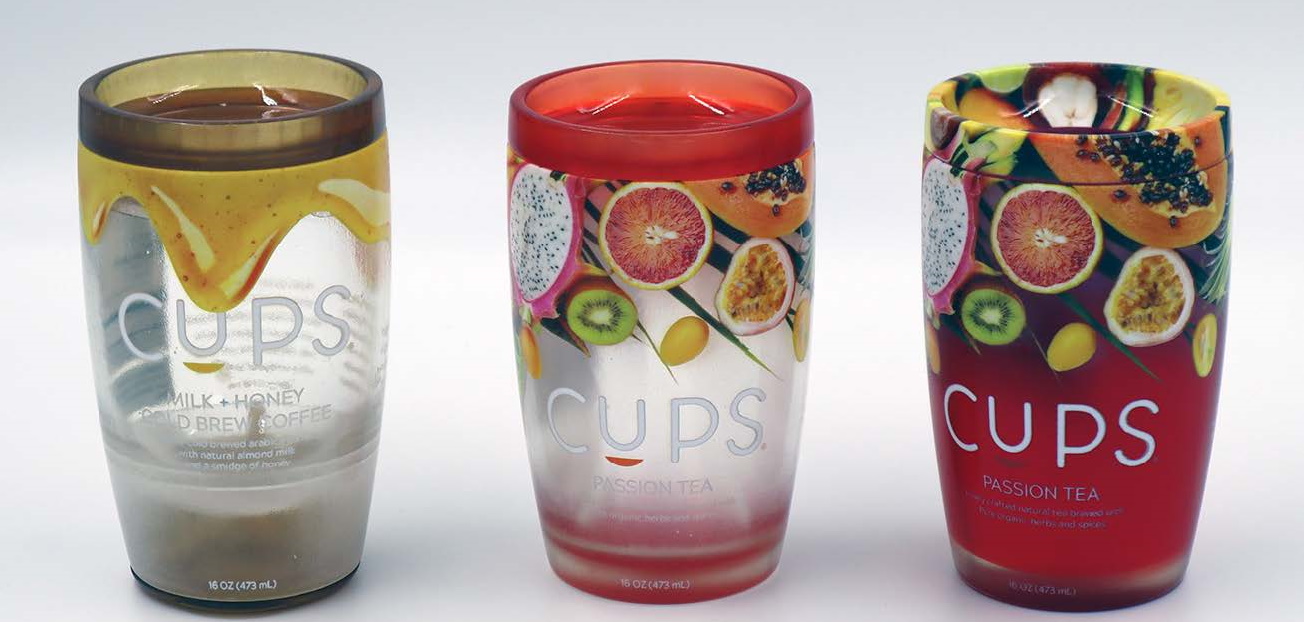 Case Study: Kinetic Vision powers up the packaging process with Stratasys J55 Prime PolyJet 3D printer. Learn More
Art, Design & Fashion
PolyJet 3D printing has found its way into the world of art and fashion, where it is used to create intricate and detailed designs for jewelry, fashion accessories, and even clothing. Fashion designers have created entire collections of 3D printed clothing, including dresses, jackets, and skirts, that feature stunning geometries and patterns impossible to create using traditional methods.
PolyJet technology enables designers to create custom-made pieces with intricate details and unique textures, making it an ideal choice for creating wearable art and fashion that pushes the boundaries of traditional design.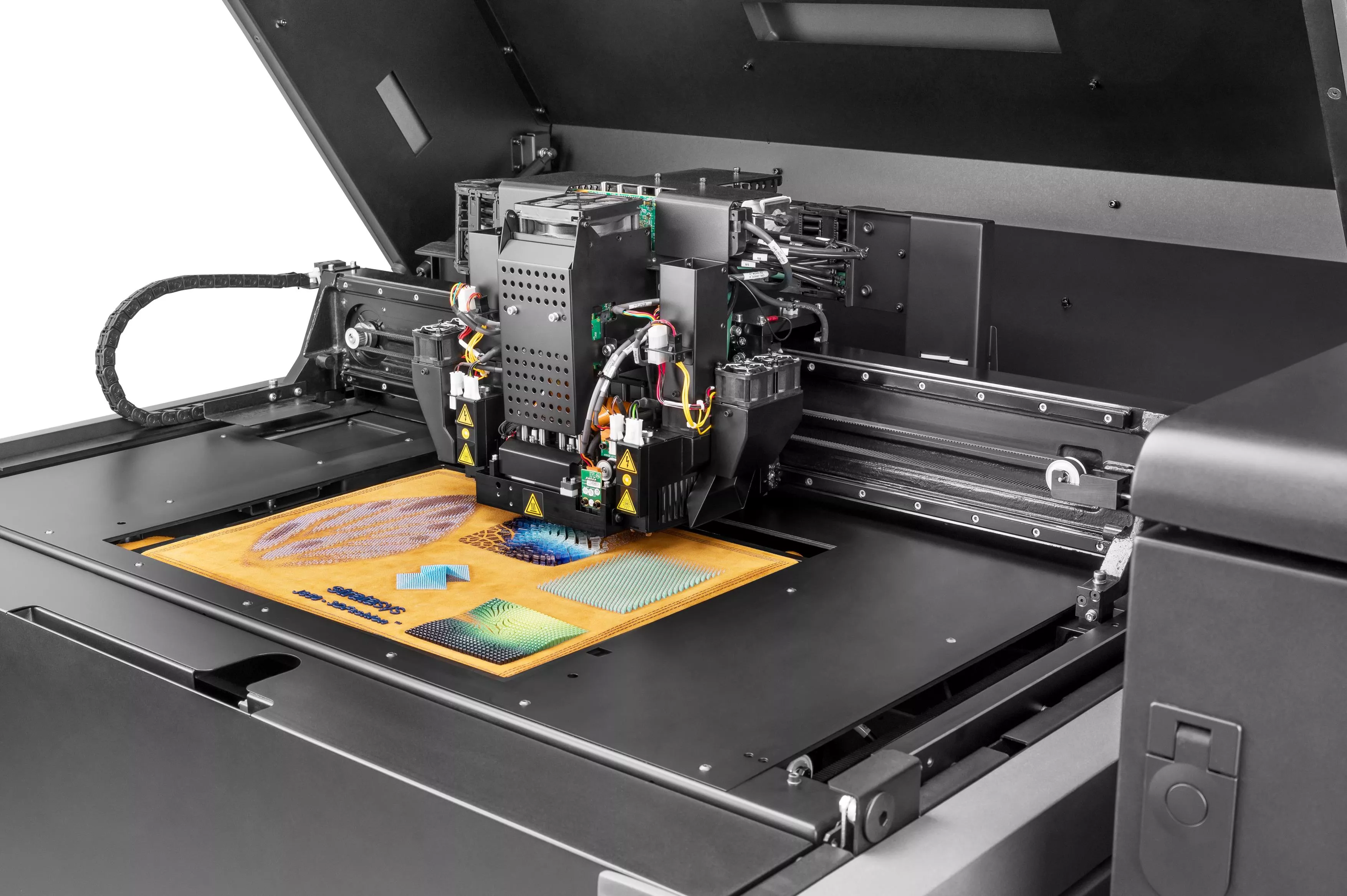 Case Study: Decoding Fashion; Stratasys J850™ TechStyle™ 3D Printer Helps Hong Kong Polytechnic University Enable Personalized Apparel Design Learn More
Unique Applications
Injection Molding
For injection molding applications, PolyJet is a game-changer, as it offers a cost-effective and efficient way to create short-run molds. By using PolyJet molds, manufacturers can rapidly and cost-effectively assess a part's form, fit, and true function. Here are the benefits of PolyJet 3D printed injection molds:
3D printed molds can easily be printed and used in the injection molding process for short-run manufacturing.

Validate the manufacturing process of a particular product before sourcing or creating expensive mold tooling.

Uncover design mistakes and improvement opportunities early in the process.

Save costs and lead times, as PolyJet molds can be constructed in one or two days for a fraction of the cost of soft metal or steel tooling.
Tooling
3D printed tooling with PolyJet technology can provide several advantages over traditional manufacturing methods. Here are some of the benefits:
Soft Jaw Tooling

- Fixtures can be printed in a durable material with soft rubber-like surface layers in one piece. This helps to protect delicate components during the assembly process.

Embedded QR Codes or Safety Instructions

- 3D printing allows for instructions, important messages, or safety warnings to be directly printed onto the part by utilizing color capabilities. This helps to communicate critical information to operators without the added step of decals or stenciling.

Improved Ergonomics

- Custom parts can be printed to fit a worker's unique body, helping to reduce fatigue and the risk of injury. This personalized approach can also improve overall efficiency and productivity.
Dental
Thanks to dental-specific 3D printers and materials, PolyJet has made a significant impact in the world of dentistry.

TruDent
TrueDent resin

is used to create a monolithic polychromatic denture

Aesthetics and precision are improved

Matches a varied patient demographic on one tray
Implantology
Accurate printing for implantology case production

Rigid models, transparent surgical guides, and soft gingiva masks can be produced on a single biocompatible tray
Crown and Bridge
3D printing allows for the manufacture of a large volume of higher-quality crown and bridge models with fewer remakes

Realistic color models can be leveraged to improve color matching of restorations with increased accuracy
Orthodontics
3D printing can increase lab capacity by offering 3D printed indirect bonding trays

Clear aligners can be produced from 3D printed arches in high-speed mode
Medical Research
Digital anatomy printing is transforming the medical industry by creating ultra-realistic anatomical simulation models that replicate the biomechanical properties of various body parts.
Training healthcare providers with simulated real-world anatomy models and allowing surgeons to practice and refine their skills in any clinical condition

Facilitates the development, testing, and validation of new medical devices while reducing training and procurement costs by up to 70% compared to traditional

Eliminates the need to test surgical procedures and devices on animal subjects, thus improving ethical practice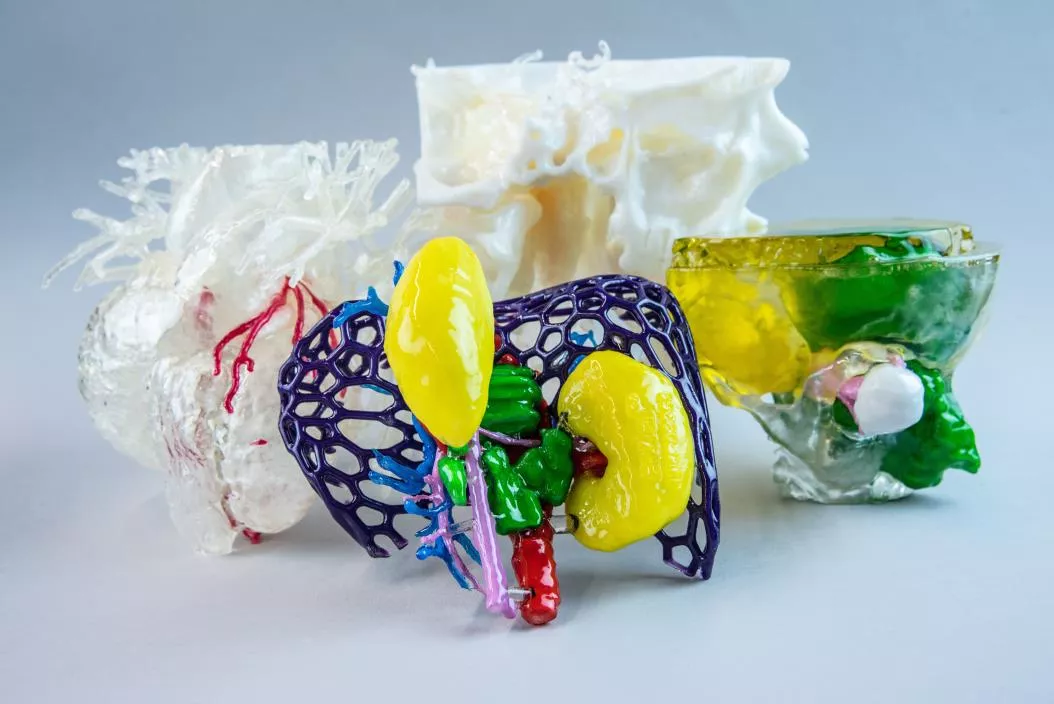 The PolyJet Lineup
Stratasys provides a wide range of PolyJet 3D printers, including the J35 Pro, J55 Prime, J5 DentaJet, J5 MediJet, J826, J850, J850 Digital Anatomy, and J4100. Each printer in the lineup offers different capabilities from build volume (5.5" x 7.9" x 5.85" to 39.3" x 31.4" x 19.6") to material properties and blending capabilities. Stratasys constantly introduces new material options and as new applications emerge, giving customers more choices and expanding the possibilities of what they can create with these printers.
View All Stratasys PolyJet 3D Printers
In conclusion, PolyJet is a revolutionary 3D printing technology that offers numerous advantages and applications. With the ability to produce smooth and highly detailed parts quickly and easily, it has become a go-to for 3D printing.
If you are interested in learning more about PolyJet technology and how it can benefit your industry, contact GoEngineer today.
More 3D Printing News
TrueDent By Stratasys: New 3D Printed Denture Solution
Concept to Production 3D Printing: How it Works
The Future of Digital Dentistry: Stratasys Solutions
Experts in Additive: 3D Printing with GoEngineer
Dental 3D Printing Technology: PolyJet and P3