Are long rebuild and load times plaguing you when working with large assemblies? As SOLIDWORKS has grown to dominate the mechanical CAD industry, we have watched it work with parts ranging from simple to complex, small assemblies to large machines, and even getting into facility layouts. In the early 2000s, an assembly of a few hundred components was considered huge. Now I work with assemblies containing tens of thousands of components and have seen assemblies soar to 750,000 components. Yes, nearly a million components in a single assembly!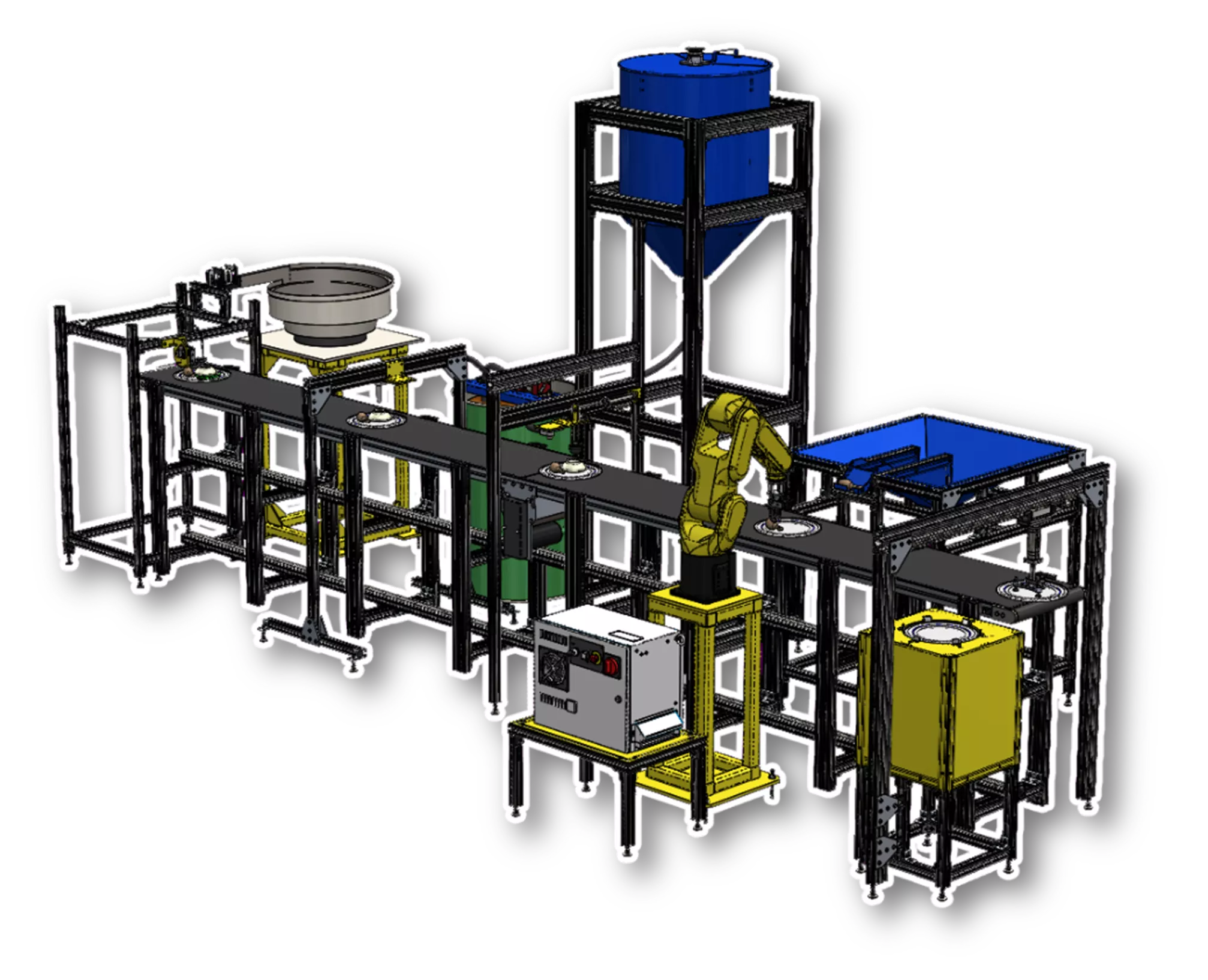 Suggested Article >> 7 Ways to Improve SOLIDWORKS Large Assembly & Drawing Performance
At a certain point, SOLIDWORKS will start to show some weakness. Large assemblies will take forever to open, and rebuilds will start to take an inordinate amount of time. As a user, what can we do?
Buy new hardware? Sure, but in the long run, there are diminishing returns on hardware. If your current hardware is old, this may help. If your hardware is new, this might not help. In most cases, significant reductions in rebuild and opening times are due to assembly management, not hardware procurement (specifically, in managing geometry and assembly mates).
Suggested Article >> Best Workstations for SOLIDWORKS: Hardware Configurations
This article discusses assembly mates in SOLIDWORKS and how using them thoughtfully can improve assembly performance.
Dispelling Assembly Myths
Let's dispel a SOLIDWORKS myth we've all heard: "You must ensure that all of your components are completely defined in your assembly".
Why? In most cases, it boils down to it being easier to guarantee everything is accounted for in the assembly and that it reduces the number of calculations needed for "loose" parts that can move. This is where the myth comes in.
The heaviest calculation operation happening in a large assembly is mates; requiring both CPU and memory. Mates are calculated when you open, when you rebuild, when you switch back and forth between files, and in some cases when you save. Also, unlike part files, where rebuilds are done in an ordered, sequential process, mates are calculated in an exponential process.
Let me try to explain it a little better.
When parts are rebuilt, the calculations start at the top of the FeatureManager design tree and progress down sequentially.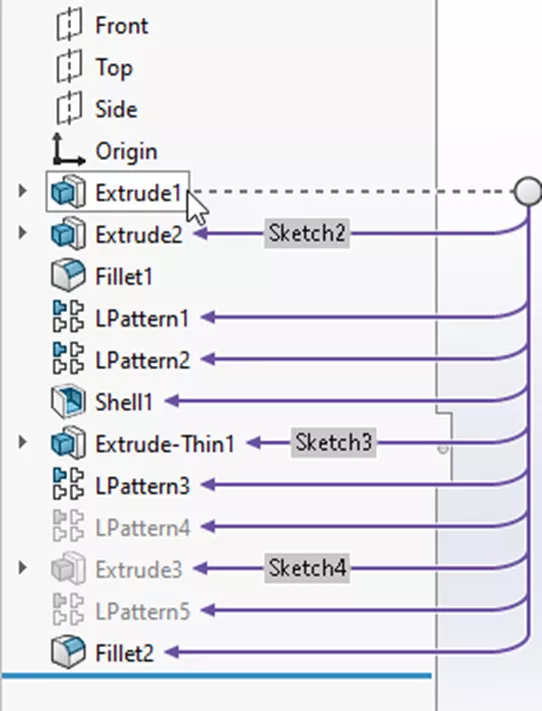 In an assembly rebuild, the calculation accounts for any geometry changes and then calculates mates. But instead of doing this sequentially, every mate is calculated against each other, making it exponential!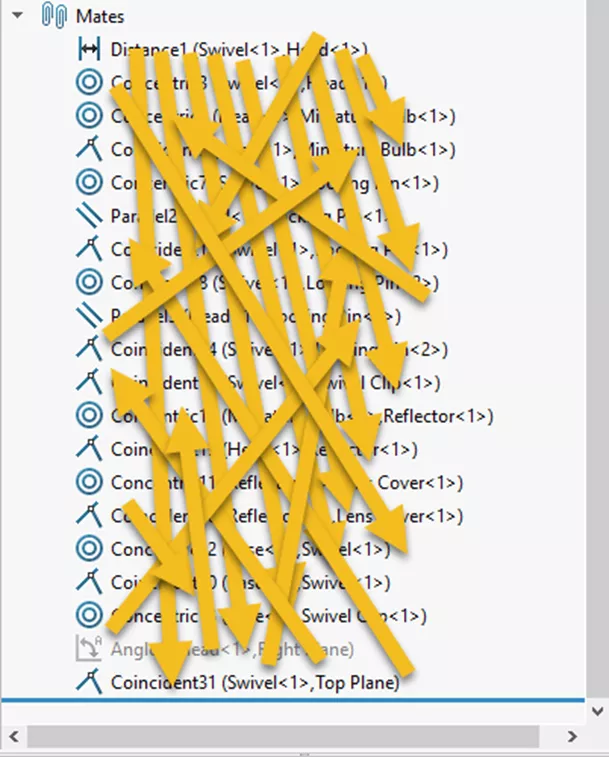 As you can see, it's a bit of a mess! The key point here is that mate calculations are exponential by nature, and ultimately, it doesn't take much for the calculations to become burdensome for the computer and for you.
Let's look at a practical example:

Imagine a machine. In this machine are 1,000 fasteners (bolts, screws, washers, nuts, etc.). If all the fasteners were fully defined, you would be looking at 3,000 mates: one concentric, one coincident, and something to keep the fastener from spinning.
But we're not done. Remember that this calculation doesn't just happen once. Instead, it happens 3,000 times, once for each mate. 3,000 squared comes out to 9 million (9,000,000) calculations that must happen to support all the mates. That's just for the fasteners!
Now, we'll make a slight adjustment. Let's remove the mate keeping the fasteners from spinning, keeping only the concentric and coincident mates. The total quantity of mates for the fasteners is now 2,000, one-third fewer than before. Now we do the same math for those mates and we get a total of 4 million (4,000,000) calculations.
By reducing the number of mates by a third, we get a calculated savings of well over fifty percent, 56% to be exact. Plus, a rough calculation comes out to about 3,000 fewer clicks of the mouse! Oh, and before you talk about the Lock Rotation option in the mate, that acts as a mate, too, and is calculated the same way. In short: Lock Rotation does not get around this!
What SOLIDWORKS Says About Mates in Large Assemblies
The SOLIDWORKS Knowledge Base has Solution S-06266, which, while lengthy, has the following to say about mate calculations:

Solutions S-021770 talks about the benefits (or lack thereof) of having all components fully defined: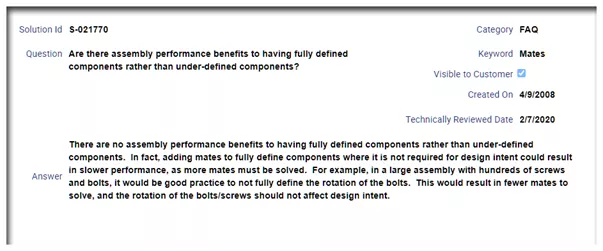 Small changes in how you use mates can significantly impact open time, rebuild time, file swapping, drawing times, and more. Remember, calculation times for mates use CPU and are memory intensive, and buying more powerful hardware only works to an extent before hitting diminishing returns. However, you can take an active role in managing what you can with an assembly by managing mates.
So, Should You Fully-Define Assemblies With Mates?
In conclusion, while mates are necessary, they need to be used with some understanding of what they can cost you as a user. Learn more about large assembly management by taking the SOLIDWORKS Assembly Modeling training course, or you can take a deep dive into all aspects of large assemblies by taking the Self-Paced Large Assemblies class both offered by GoEngineer.
Additionally, join the GoEngineer Community to participate in the conversation, create forum posts, and answer questions from other SOLIDWORKS users.
SOLIDWORKS CAD Cheat Sheet
Our SOLIDWORKS CAD Cheat Sheet, featuring over 90 tips and tricks, will help speed up your process.
More SOLIDWORKS Tutorials
How to Open Large Assemblies in SOLIDWORKS
Great SOLIDWORKS Selection Tool for Large Assemblies
Introduction to SOLIDWORKS Mates: Standard, Advanced, & Mechanical
SOLIDWORKS Magnetic Mates Explained
Show Sheet Metal Bend Lines in a SOLIDWORKS Drawing